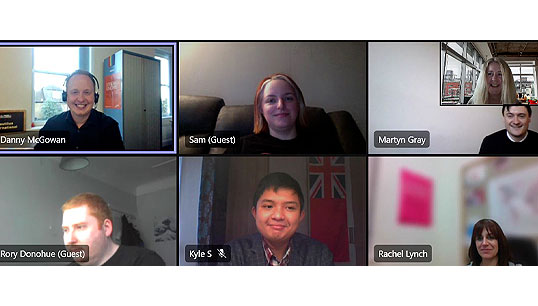 Nautilus members heard a full update on all the Union's 'behind the scenes' work on behalf of members over 2021, when they gathered online for the final Equality and Diversity Forum (EDF) of 2021.
At the EDF, the Union usually holds 'safe space' sub-network meetings for young members, female members, LGBT+ members and members from BAME backgrounds, where there is the opportunity to discuss issues relating to specific areas of diversity in a confidential and secure environment.
The meeting, chaired by Council member Sam Belfitt, was introduced to the new EDF secretary Danny McGowan and two staff who have assumed key new roles within the Union: new executive officer Martyn Gray; and strategic organiser Rachel Lynch, who has taken on responsibility for cadets.
These range from a Pride in Maritime Day on 28 February – being organised by Maritime UK and supported by Nautilus – to a revitalised Young Workers Month in November.
Members are encouraged to put forward ideas on what they would like the planned Pride in Maritime Day to look like. Organisations are also being encouraged to create their own commemorations for what is hoped will become the first of an annual event.
As well as agreeing the EDF minutes, which highlighted the Union's Build Back Fairer campaign to ensure seafarers are recognised as keyworkers and the need for a just transition to green technology, the meeting heard reports from the sub-groups on women, youth and LGBT+. Members heard about work to reduce abuse and sexual violence in the workplace, the stigma of reporting, and a European Union diversity survey of former female seafarers. Plans to revise the Union's guidance on bullying and harassment and paternity and maternity rights are also in hand.
Mr Gray outlined his attendance on behalf of the Union at the Trades Union Congress (TUC) young workers forum.
Mr McGowan, who also chairs the Maritime UK Pride in Maritime Network, gave an update on Maritime UK Taskforce initiatives to improve diversity in the workplace, including specialist interview panels, and the various strands of work for LGBT+ seafarers through the Pride in Maritime Network – such as the safe spaces for networking and the industry roundtables which aim to make maritime a more welcoming sector.
Members heard how the chairs of each of the four Maritime UK diversity networks form the Taskforce council which supervises the work on diversity. Nautilus general secretary Mark Dickinson also takes part in this work. The next Pride in Maritime roundtable will be held in January 2022, and a network meeting is also planned to progress the Pride in Maritime day theme.
Mr McGowan also outlined how Nautilus had raised the seafarer profile through attendance at key shipping events in 2021, including hosting events in September at London International Shipping Week and taking part in the Women in Transport summit, which brought together air, rail and sea transport industries.
The next EDF forums will be both be held in London, in person – pandemic restrictions permitting – in 2022 on 12 April from 2pm to 5pm and on 21 November from 2pm to 6pm.
Mr McGowan encouraged members to get involved in the forums as a good way to connect with other members and to hear more detail of how the Union is working for members.
---
Tags