Equality
Covid's negative effects on women's wellbeing is an opportunity to do better
22 September 2021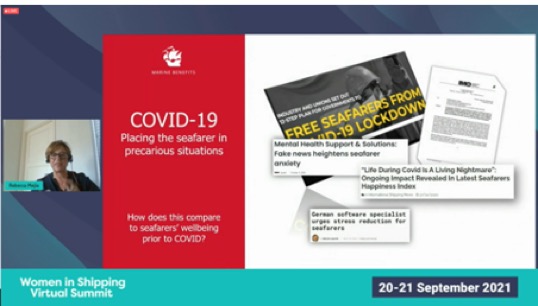 Women have been disproportionately affected by the pandemic in terms of both employment and their wellbeing, according to the Women in Shipping Virtual Summit.
However, speakers see a real opportunity to push for change and gender equality.
The Women in Shipping Virtual Summit took place between 20-21 September 2021, covering a host of women's issues from employment, training, and wellbeing across the two-day conference.
Several presentations and panels discussed the effects of covid on women's employment and wellbeing during the pandemic, in general and within in the maritime industry, focusing on work life balance, experiences onboard and at home and expectations for the future.
On the wellbeing front, Rebecca Mejia of Marine Benefits presented the findings of their seafarer wellbeing survey. In their 2019 study, women reported feeling more stressed and anxious, as well as experiencing more muscular and skeletal problems than men. This feeling of stress has only increased in their 2020 survey which found women had an overall stress score of 20.9, increasing by 1.4.
QHSE manager Gosia Halliday of AqualisBraemar LOC discussed the impact of the pandemic on women, delivering research from within the company on how Covid affected the women they employ. They surveyed 41 women across 25 countries, with 22 of the women being mothers. AqualisBraemar found that 15 women reported the pandemic affecting their mental health and 12 reporting a poor work-life balance.
One woman surveyed said 'the pressure of home schooling/caring for children whilst working was extreme, a weight has been lifted since schools re-opened.' Going forward they found that 70% of women expected a new working norm out of the pandemic.
The summit ended with a final session titled 'The post COVID landscape for women in maritime: new opportunities for gender equality?' and was led by Sue Terpilowski, co-chair of Maritime UK's Diversity in Maritime Taskforce and chair of the Women in Maritime Network. Other panellists included Julie Lithgow of the European Union Maritime Women Initiative and Professor Kate Pike of Solent University.
In general, Covid has had a negative impact on women, with Kate referencing UN research on countries in the EU, which has found that women are at a higher risk of unemployment in 2020 and women's inactivity in the labour market due to caring responsibilities is significantly higher than men.
Sue highlighted the need for a united front from governments and companies to attract women into the industry, taking action to put women at the heart of their policies, as well as creating policies to prevent women from losing their jobs and making it easier for women to return to paid work once the pandemic is over. For example, looking into what their policies are for miscarriages, and addressing menstrual issues – the latter a problem which has been affecting women seafarers for years and which was mentioned several times during women's events in LISW as still being a prominent issue.
This view was supported by fellow panellist Julie Lithgow, who cited a Deloitte survey of 25-30-year-olds that showed they will be expecting more from employers in future, with 44% of millennials and 49% of Gen Zers making choices over the type of work they are prepared to do or organisations they would work for based on personal ethics.
---
Tags