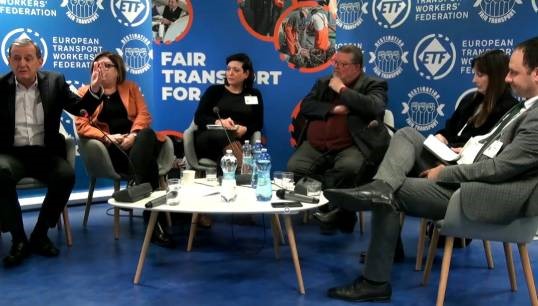 What priorities do you think the European Transport Workers' Federation should have when fighting for your rights in Europe? A significant part of the ETF's work is to take the demands of all Europe's transport workers to policymakers at the EU, and that includes issues raised by workers from countries outside the bloc.
A good example of the interactions between the ETF and the EU was the January 2023 roundtable event in Brussels on The Future for Transport. The ETF organised this and invited EU parliament members (MEPs) and European commissioners (members of the EU's executive body) to take part in a panel debate.
ETF general secretary Livia Spera and president Frank Moreels were there to hear what the MEPs thought should be the priorities for European transport and press the case for what workers really needed.
Ms Spera pointed out that there is a problem recruiting young workers into transport jobs because the conditions aren't good enough. Safety for women and sexual harassment are particular issues, but men too are suffering from a lack of clean and safe rest facilities throughout road, rail and maritime – impacting on worker fatigue.
Mr Moreels said that priorities should include enforcement of regulations that protect transport workers' rights, precarity of work (notably an issue in shipping) and salaries that pay a living wage.
Some panellists argued that looser regulations were needed to make transport businesses profitable, pointing out that only profitable businesses could offer good jobs. The trade unionists countered that legal loopholes and poor enforcement of regulations can lead to companies like P&O Ferries running roughshod over workers' rights.
With elections to the European Parliament coming up in 2024, the ETF will continue lobbying to get transport issues into manifesto commitments, and Nautilus, as an ETF affiliate, will continue pressing to get our members' voices heard. So if you have ideas on what the ETF should be doing for you, please contact Nautilus head of international relations Danny McGowan at dmcgowan@nautilusint.org.
---
Tags