International
Fatal piracy attack in the Gulf of Guinea follows launch of Nigeria's Deep Blue Project
10 September 2021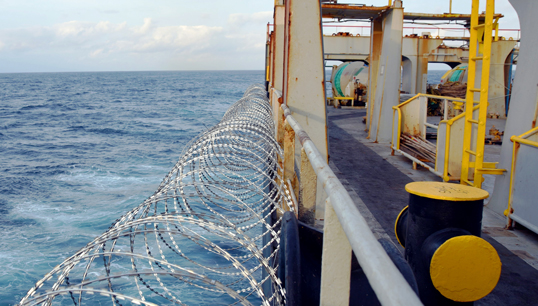 Pirates have violently attacked a vessel in the Gulf of Guinea, injuring two crew members with another reported missing. This latest attack has occurred less than three months since the launch of the Nigerian government's Deep Blue Project.
During the attack, which has been confirmed by the International Maritime Bureau Piracy Centre (IMB PRC), five individuals in a speedboat approached the vessel, fired upon it, and then boarded it. The first officer and cook were shot, and the second engineer was reportedly thrown overboard and is yet to be found.
The Nigerian government launched the Deep Blue Project earlier this year to tackle piracy in the Gulf, which is now the worst-affected area worldwide, using land, sea and air assets. The Nigerian Maritime Administration and Safety Agency (NIMASA) director general Dr Bashir Jamoh claimed that there had already been a drastic reduction in the rate of attacks in the country's Exclusive Economic Zone (EEZ) with the deployment of Deep Blue Project assets.
The project itself has cost Nigeria $195 million, with Jamoh stating that Gulf of Guinea piracy has cost the country nearly $800 million overall, according to domestic newspaper Vanguard. In a presentation to mark the release of a new report, 'Enhancing Collaboration amongst Stakeholders for Improved Maritime Security in Nigeria', Jamoh said that studies have found maritime insecurity in the region is driven by 'an increase in ship traffic as a result of globalisation; the debilitating leadership of many of the states in the region; the proliferation of small arms; poor monitoring and control of the oceans; and criminality, which have been further aggravated by visible youth unemployment.'
---
Tags