International
IMB annual report warns of continuing threat to seafarers in Gulf of Guinea
13 January 2022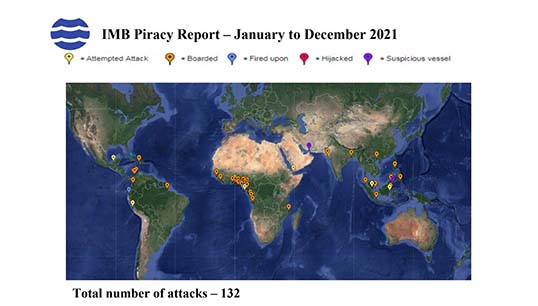 The ICC International Maritime Bureau (IMB) is urging the maritime industry to be cautious in its piracy and armed robbery report for 2021, despite the lowest number of reported incidents since 1994.
The IMB attributes the drop in incidents to vigorous action taken by authorities but has called for continued coordination and vigilance to ensure the long-term protection of seafarers.
The IMB Piracy Reporting Centre received reports of 132 incidents of piracy and armed robbery against ships. These comprised 115 vessels boarded, 11 attempted attacks, five vessels fired upon and one hijacked. This impacted 82 crewmembers, with 57 kidnapped, nine threatened, eight held hostage, four injured, three assaulted and one killed.
IMB director Michael Howlett said: 'While the overall reduction in globally reported incidents is welcomed the IMB Piracy Reporting Centre urges coastal states to acknowledge the inherent risk from piracy and armed robbery and robustly address this crime within the waters of their exclusive economic zone. The IMB Piracy Reporting Centre remains committed to actively engage and exchange information with coastal states to promote safety for seafarers and trade.'
Gulf of Guinea
While the IMB reports an overall decrease in the reported incidents of piracy in 2021, it warns that the threat to seafarers persists and urges crew and vessels operating in the region to be cautious as the perpetrators remain violent and the risk to crews remain high. This is evidenced by the kidnapping of six crewmembers from a container vessel in mid December.
Mr Howlett said: 'The IMB commends the robust actions of the international navies and regional authorities in the Gulf of Guinea which appears to have positively contributed to the drop in reported incidents ensuring continued safety to crews and trade.
Singapore Straits
Attacks are on the rise in the Singapore Straits according to the IMB's latest figures. In 2021, 35 incidents against vessels navigating the Straits were reported, a 50% increase from 2020 and the highest number reported since 1992.
The continued efforts of the Indonesian Marine Police are credited for maintaining reduced levels of incidents in the Indonesian Archipelago. This has led to reports dropping from 26 in 2020 to 9 in 2021, the lowest since 1993.
---
Tags