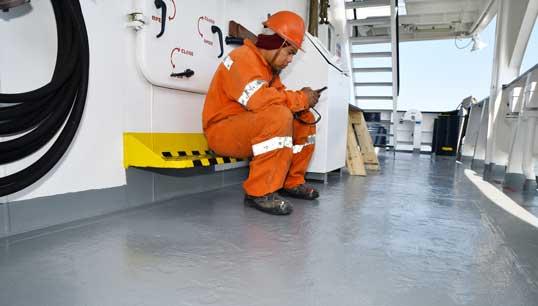 Seafarers have won important concessions on connectivity, food and personal protective equipment during negotiations on amendments to the Maritime Labour Convention, 2006 (MLC).
The MLC, often referred to as the seafarers' 'bill of rights', is an international treaty guaranteeing basic standards for workers, covering everything from medical care to repatriation.
It is regularly amended via meetings of the latest Special Tripartite Committee (STC), which consists of representatives from labour, industry and governments, with the latest meeting concluded on 13 May.
During the latest negotiations, which covered a range of issues relating to the Covid-19 pandemic, the Seafarers Group achieved several key wins for seafarers:
The right to mandatory social connectivity for crews – including internet access
Personal protective equipment to be made available in sizes that suit seafarers onboard, including for women
Improved access to free drinking water, quality provisions and balanced diets
Clarification on responsibilities for governments to provide information to seafarers on mandatory systems of protection that must be put in place by recruitment and placement agencies
'We've learned a lot during the Covid period and that has been driving us to improve the MLC,' said Mark Dickinson, general secretary of Nautilus International, who acted as STC vice-president and spokesperson for the Seafarers Group during the negotiations.
'A lack of contact with the outside world can have profound implications for seafarers' wellbeing – which we saw the worst effects of during Covid. Being able to keep in touch with family and friends isn't just a nice-to-have, it's a basic human right. That's why we fought so hard for seafarers to be given internet access and to have a mandatory provision in the MLC.'
Shipowners dug their heels in over the change, insisting that they should be able to limit access and be able to charge seafarers for internet connectivity. However, the Seafarers Group lobbied to ensure that any charges levied on seafarers remain an exception, and if any charges are imposed that they are reasonable. Governments were also encouraged to increase internet access in ports and associated anchorages without cost to seafarers.
The STC also adopted several resolutions that will guide the future work of the Committee. These included further work on the eradication of sexual harassment at sea, the sustainability of the financial security provisions provided by P&I Clubs and insurers, and the ability of seafarers to enforce seafarers' employment agreements against shipowners.
However, shipowners rejected outright proposed changes to the MLC's terms on repatriation. The Seafarers Group demanded that shipowners' responsibility to repatriate seafarers at the end of their contracts be extended to the point at which seafarers land at their home location.
'As seafarers' representatives, we're disappointed. We're buoyed by the support of some governments, but still, it is the first time in the history of the STC that one group has rejected an amendment outright,' Mr Dickinson said.
In his closing remarks, he expressed his disappointed that shipowners continue to focus on agreeing technical changes during the negotiations, rather than looking towards resolutions that support the continuous improvement of seafarers' conditions.
'They have lost sight of the original tripartite vision of the MLC to enhance the minimum standards for seafarers. Unless this changes path, it will have profound consequences on the future of the shipping industry.'
ITF general secretary Cotton called on the industry to continue to collectively tackle challenges that face the industry and seize on opportunities to make shipping a decent, safe and career for seafarers.
'Through Covid, ITF and ICS worked so well together, and with other shipping partners such as IMEC, so it would be an incredible shame if we didn't continue to work together in that spirit. Decent work for seafarers must be at the heart of this.'
---
Tags