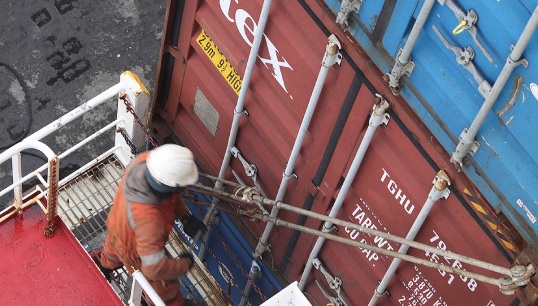 The Court of Rotterdam has ruled in favour of unions including Nautilus International over a collective bargaining agreement (CBA) clause around the lashing of vessels.
The clause, which applies in all ports worldwide and came into force on 1 January 2020, stipulates that lashing must be done by qualified dock workers. If dock workers are not available, then seafarers may only lash on a voluntary basis and in return for additional pay.
Employers, shipowners and charterers refused to comply, arguing that the clause violates competition law. However, the Dutch court determined that the lashing clause – as part of a CBA reached through social dialogue – is exempt from competition law and plays an important role in ensuring safety for seafarers.
Shipowners have now been ordered to comply with the lashing clause in the port of Rotterdam and in foreign ports. International crew manager Marlow has also been ordered to comply after the court ruled that, as the employer, it will at least have to make an effort to ensure that CBAs are honoured onboard.
If the defendants again fail to comply with the CBA they face hefty fines.
The International Transport Workers' Federation (ITF), Nautilus International and FNV Havens worked together to achieve this legal victory.
'Fatigue among seafarers is a major concern in the maritime sector. Against this background, agreements on lashing have been reached at the international level. It is a victory for everyone in the maritime sector that those agreements cannot be haggled with,' said Nautilus executive officer Sascha Meijer.
Niek Stam, executive at FNV Havens and a member of the negotiating team on the CBA, said: 'Those who don't fight will never win. This is the only logical outcome of the lawsuit. Otherwise a signature would no longer be worth anything. A deal is a deal.'
Legal proceedings are currently underway in other countries against parties that do not comply with the lashing clause.
---
Tags