Welfare
More than 50 shipping companies offer Wellness at Sea programme to crews, families and shore staff
1 July 2021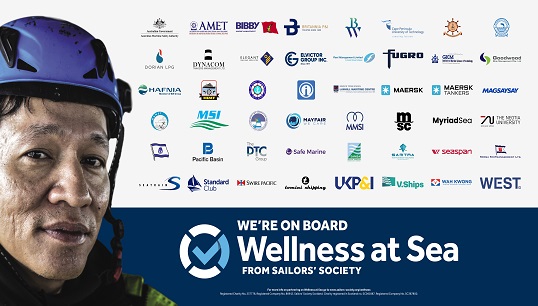 More than 50 shipping companies are now offering Sailors' Society's Wellness at Sea Awareness programme.
The free 27-week programme begins this week. It will provide a series of resources and advice about staying well across a variety of subjects, including relationships, mental health, physical fitness to spiritual wellbeing. The programme has expanded from its launch last year and now includes advice and support for seafarers' families and shore staff.
Sara Baade, CEO of Sailors' Society, said: 'We're delighted that so many companies are getting onboard with Wellness at Sea and recognising just how important good physical and mental wellbeing is for the people that power the shipping industry.'
The Wellness at Sea Awareness programme provides participants with a variety of helpful materials, from posters to podcasts. They will also be given the opportunity to join peer support groups and invited to take advantage of Sailors' Society's helpline, which offers free help for those struggling with their mental health or those who would just benefit from someone to talk to.
The charity is also updating its Wellness at Sea e-learning platform in response to the pandemic and will be making it free for all seafarers when it launches later in the year.
Chris South, senior underwriter, West of England P&I Club said: 'Crew mental wellbeing has often been overlooked when compared with the attention given to physical safety. West is proud to sponsor Sailors' Society's Wellness at Sea programme which seeks to protect the mental health of the crews, their families and the shore staff who support them.'
---
Tags