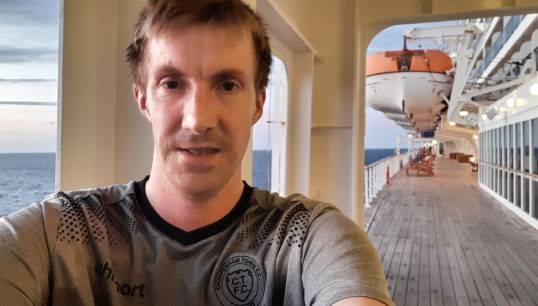 Nautilus member George Belcher has been back on the treadmill in between shifts onboard, in training for his second London Marathon in aid of the maritime welfare charity Sailors' Society.
The third engineer is currently serving on a cruiseship sailing from Australia to South Africa, and just as in his first marathon for the same charity in 2021, most of Mr Belcher's training has been done onboard ship using a treadmill or on open or promenade decks where possible, no mean feat! When he signs off on 7 April and heads home to the UK, his first running session ashore is likely to be just two weeks before the race.
'Doing the London Marathon this time is again to give something back for a good cause and show my pride and passion for the job. Sadly this also a motto for my local football team – Chippenham Town FC!', he said.
Members wishing to give him an incentive to continue train can donate at the George Belcher London Marathon page.
Mr Belcher is no stranger to volunteering: he also helps out with a local foodbox when he is on leave to 'give something else back to the community'.
---
Tags