Nautilus news
Nautilus to raise Red Ensign in support of seafarers on Merchant Navy Day
13 July 2021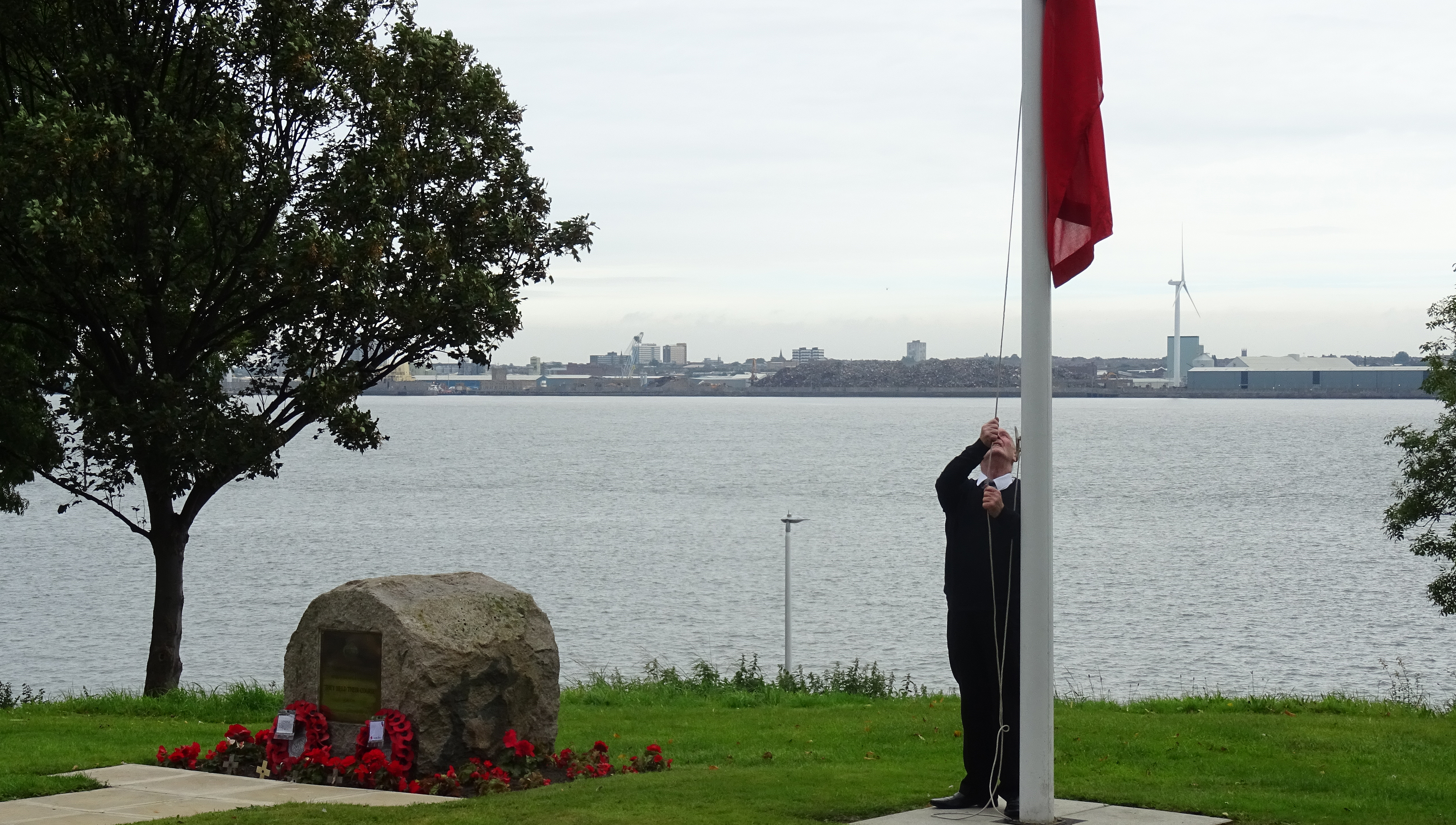 Retired mariners at Nautilus Mariners' Park will mark the annual UK Merchant Navy Day by raising the Red Ensign in a dedicated Covid-safe outdoor ceremony.
Wirral's mayor George Davies and mayoress Catherine Davies have accepted an invitation to visit Mariners' Park for a tour and to meet residents on the afternoon of 3 September. Earlier at 11 am, the Nautilus Welfare Fund's annual flag raising ceremony commemorating Merchant Navy veterans will be held beside the Memorial Stone overlooking the Mersey River. The service will be conducted by Wirral minister Alan Leach.
Communities across the UK are encouraged to raise the Red Ensign on Merchant Navy Day (3 September) to honour maritime professionals and recognise the vital contribution that they made during global conflicts, and to acknowledge our dependence on modern-day Merchant Navy seafarers who are responsible for delivering more than 90% of the UK's imports.
However, ongoing pandemic restrictions are affecting many public flag raising events for a second year running. While the flag-raising will still take place at many venues, many public events at Merchant Navy memorials will be restricted, but there are plans to honour Merchant Navy professionals at some restricted events, and some of the usual commemorations for the day will be primarily held online and via social media due to uncertainty with regards to Covid-19 restrictions at the planning stage.
The Merchant Navy Association has also decided, due to ongoing uncertainty surrounding the coronavirus pandemic, that the annual national service to celebrate Merchant Navy Day usually held at the Merchant Navy War Memorial at Tower Hill in London will not be held in 2021.
The Red Ensign campaign was started in 2015 by The Seafarers' Charity (formerly Seafarers UK) to address 'sea blindness'. It promotes the UK Merchant Navy's official flag, to be flown on civic buildings and landmark flagpoles. Parish, community, town, city, district and borough councils are all invited to take part, along with higher-tier local authorities and governments.
This year the charity is also making a special appeal for donations to be made to the Merchant Navy Fund (also administered by The Seafarers' Charity), a collaborative initiative set up in 2012 by The Seafarers' Charity and the Merchant Navy Welfare Board to exclusively support UK Merchant Navy seafarers.
According to the Merchant Navy Day website Roll of Honour for 2020, the Red Ensign was raised in more than 1,000 locations across the UK despite many events having to be cancelled because of the pandemic. This year the Roll of Honour won't be available as The Seafarers' Charity is working towards launching a new website, due to go live at the end of September. All participants will still receive a certificate of participation as before.
The Red Ensign may be freely flown ashore anywhere in the UK at any time of the year, says The Seafarers' Charity. 'For example, it is permissible for it be hoisted on or before Merchant Navy Day and/or left flying permanently'.
Merchant Navy Day is observed in the UK and all Commonwealth countries, honouring the sacrifices made during global conflict. Following many years of lobbying to bring about official recognition of the sacrifices made by merchant seafarers in two world wars and since, Merchant Navy Day became an official UK day of remembrance on 3 September 2000. This particular date was chosen as it observes the sinking of the first British merchant ship in 1939, just hours after the Second World War was declared.
---
Tags