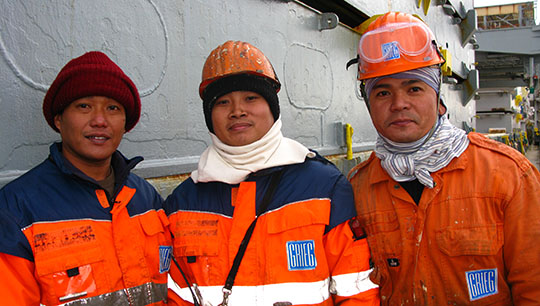 The Philippines has launched a vaccine programme that prioritises Filipino seafarers scheduled for deployment within 90 days from 1 July 2021.

The Philippines Maritime Authority (Marina) said that from June qualified seafarers will receive two doses of vaccine at the AMOSUP Seamen's Hospital in Manila.

Additional vaccination locations are available for Filipino seafarers whose deployment is scheduled beginning August, including the AMOSUP Seaman's Hospital in Davao, lloilo, Cebu, and some local government units.
Filipino seafarers were included in the priority list of Covid-19 vaccinations in April after the Inter-Agency Task Force on Emerging Infectious Diseases (IATF-EID) approved the recommendation made by the Department of Transportation (DOTr).
The Philippines has received more than three million doses of Covid-19 vaccines developed by Sinovac and AstraZeneca.
Some 730,600 Filipino seafarers are in line for the priority jabs, according to Marina. Priority will be given to active seafarers or those with recorded sea service within the last three years, while new seafarers or those with last recorded sea service beyond 2018 willl be ranked second.
---
Tags