Health and safety
Report into Australian container loss highlights deteriorating deck structure and fittings
20 December 2022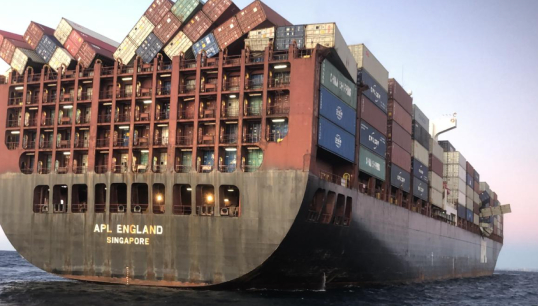 Failures by key agencies and authorities to detect the deteriorating condition of a ship's deck structure and fittings have been identified in an investigation of the loss of 50 containers in heavy weather off the Australian coast.
A report on the incident – which involved the 2001-built Singapore-flagged containership APL England – concludes that 'external parties' including shore management, class, insurers, and flag and port state authorities had not noticed that badly corroded fixed container securing devices were compromising the effective securing of cargoes 'for an extended period of time'.
Fifty containers were lost, and a further 63 damaged, when the 5,780TEU vessel suffered a series of heavy rolls in force 9 winds and 6-9m waves some 40nm off Sydney in May 2020. The main engine also shut down as a result of a loss of lubricating oil pressure.
Post-incident inspections identified that more than 550 single and double lashing plates required replacement, along with 'significant amounts' of deck steelwork and structures. 'Some of the lashing plates were reduced to less than 5mm effective cross-sectional thickness from the original 25mm plate,' the Australian Transport Safety Board (ATSB) report states.
'Our investigators found this condition would have taken several years of poor maintenance to develop,' ATSB chief commissioner Angus Mitchell added. 'This showed the ship had not received the scrutiny from crew members, shore management, or other agencies that a ship of its age or condition required.'
APL England was repaired in China and returned to service in August 2020, with a condition of class noting that numerous corroded or thinned bracket/stiffener plates on the exposed weather deck and cross decks still required repairs. Soon afterwards, the ATSB notes, the ship was sold to new owners and changed flag, classification society, P&I club, and area of operations.
Investigators found that some containers were not stowed in accordance with the cargo securing manual and this resulted in container weights exceeding maximum limits in several locations.
The report says that 16 boxes had been lost as a result of 'insecure loading' of high cube containers into one bay. Although this was contrary to the cargo securing manual, it was not identified by the cargo computer software in use at the time.
The ATSB said opportunities to reduce the risks posed by the adverse sea conditions had been missed because crew members had failed to follow company procedures for heavy weather.
'This incident should be a reminder to all ship masters and crews of the importance of adhering to the cargo securing manual, and of following specific procedures and guidance material ahead of – and during – adverse weather,' the ATSB added.
The report also highlights wider concerns about the condition of cargo securing equipment on containerships. A concentrated inspection campaign carried out by the Australian Maritime Safety Authority (AMSA) in 2010 found the state of lashings and fittings to be 'a cause of concern' on 8% of ships checked. Following a further round of targeted inspections after the APL England accident, AMSA said it 'continued to observe failures of fixed physical securing arrangements onboard ships visiting Australia'.
---
Tags