Nautilus news
Seafarers remain 'out of sight, out of mind' after pandemic, Nautilus survey shows
1 March 2022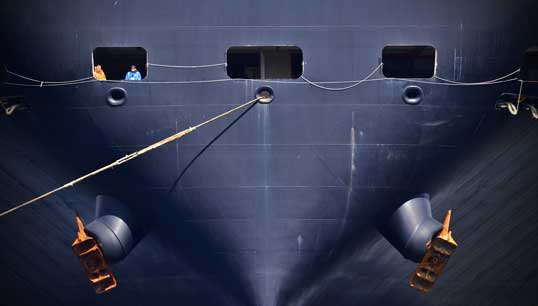 Nautilus International has released the findings of its new 'maritime barometer' survey, which raises serious concerns about the public's lack of knowledge about the UK's essential maritime industry.
According to the survey, which consulted a sample of 2,000 members of the public, just 0.1% of respondents knew that over 95% of goods coming into the UK enter through a port, with the average respondent believing this figure was much lower at just 48%. Over a third of Brits could not name their nearest port and only a fifth felt seafarers deserved key worker status.
The public also thought a shark attack was more likely than a pirate attack, despite there being 132 piracy incidents reported globally in 2021. When asked to name a famous seafarer, more than half were unable to while some respondents named 'Captain Birdseye' and 'Captain Morgan'.
When asked about considering a career at sea, only 4% said they had been told about a career at sea in school, despite a decline in popularity of maritime careers, over a third of respondents said they would consider a career at sea, but the 'out of sight, out of mind' nature of the industry is preventing people from proactively considering maritime jobs.
Of those respondents who would not consider a career at sea, seasickness was one of the main reasons why respondents would not consider working in the industry.
'Unfortunately, despite our long maritime history and status as an island nation, the public's knowledge when it comes to shipping and seafaring is woefully lacking,' said Nautilus general secretary Mark Dickinson.
'To the public, shipping and seafarers are out of sight and out of mind, and this sea blindness is putting the UK in a perilous position given the vital role the maritime sector plays in all of our lives, every single day. It is easy to see and acknowledge the delivery drivers and retail workers who help us put food on the table and clothes in the wardrobe but without seafarers, these shelves and wardrobes would be empty.
'As an island nation with a proud maritime history, we must do more to understand, appreciate and, crucially, promote the maritime industry to underpin our maritime resilience, and ensure that the nation's maritime skills needs are futureproofed and that we have the maritime professionals in place to continue delivering to these shores both now and in the decades to come.'
Nautilus is committed to raising public awareness of the critical role of seafarers, increasing recognition of maritime as a worthwhile career, and ensuring those currently working at sea and in maritime experience decent work and fair treatment in their jobs. The Union believes that turning a race to the bottom into a race to the top will require the industry to address the nation's sea blindness, but this will also improve the attractiveness of careers in shipping and help retain and motivate current maritime professionals.
---
Tags