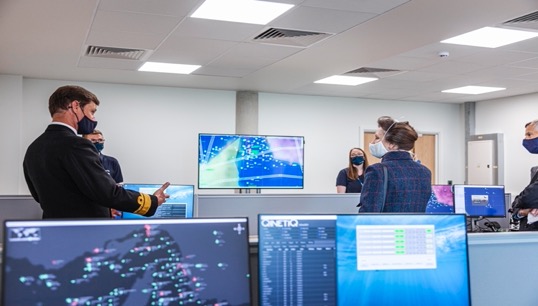 Her Royal Highness The Princess Royal performed the official opening of the National Maritime Systems Centre (NMSC) on Monday 10 May.
The £30 million facility from QinetiQ and the Solent Local Enterprise Partnership (LEP) aims to provide a modern working environment to attract critical skills and a hub for technological advances in the maritime environment in support of the Royal Navy.
The Princess Royal was shown demonstrations of some of the work carried out by the NMSC. Three demonstration, provided by QinetiQ's recent graduate and apprentice intake, illustrated the complex systems engineering work being done for the Royal Navy.
The state-of-the-art offices and trial areas at the NMSC are capable of delivering complex maritime systems engineering support to the UK Ministry of Defence (MOD). Portsdown Technology Park includes over £100m of equipment and facilities to assist all major classes of Royal Navy warships. This may reduce demand on ship time for tests and trials, resulting in cost savings for the MOD.
Anne-Marie Mountifield, chief executive and board director at the Solent Local Enterprise Partnership said: 'We're delighted to see the centre open for business. The scale of our investment will reach far into the local community, and will support SMEs to create jobs as well as cement the Solent region's reputation as being a world class hub for the marine and maritime sector.'
---
Tags