Campaigning
Transport Select Committee recommends mandatory welfare charter for seafarers
21 March 2023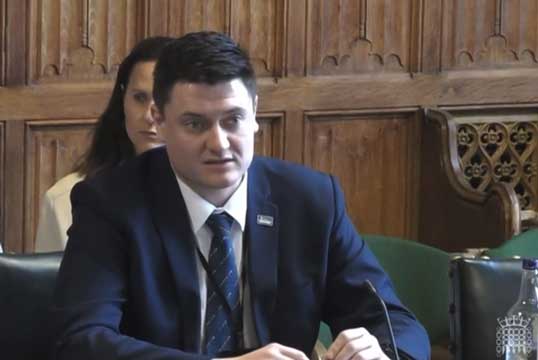 In an important win for Nautilus International and its members, the House of Commons Transport Select Committee has recommended the creation of a mandatory seafarers' welfare charter as part of a new report on the UK government's Maritime 2050 strategy.
Nautilus International submitted both written and oral evidence during the committee's enquiry, warning that a lack of action from government in response to P&O Ferries mass-sacking would have grave consequences for the 'people' section of the Maritime 2050 strategy. The Union called for stronger action from government to hold P&O Ferries accountable and ensure no maritime employer could act in the same way again.
The committee agreed that P&O Ferries' actions not only affected the 800 seafarers directly, but damaged the UK maritime sector. To this end, it has now called for government to publish a report into its nine-point plan, which the Union says there has been little progress on over the past year.
The committee's report also states: 'We feel that the government's current plan to ask operators to sign up voluntarily will not give the assurances and protections that seafarers want and deserve', and therefore it recommends that government implement a mandatory seafarers welfare charter. This a major victory for Nautilus, which has consistently raised the absurdity of a voluntary charter that P&O Ferries could simply ignore.
The select committee report comes as the government looks to implement its Seafarers' Wages Bill, one aspect of the nine-point plan, which the committee states is not sufficient in itself to ensure proper treatment of seafarers.
Other recommendations made by the committee involve decarbonisation, enabling smart shipping, and clarifying the role of ports in the Seafarers' Wages Bill.
Transport Committee chair Iain Stewart said: 'People make the maritime sector. Many will be supportive of the government's plans to enforce the UK minimum wage equivalent for seafarers who frequently work here, albeit on ships registered abroad, but this will not be sufficient to ensure proper treatment of seafarers.'
Nautilus International executive officer Martyn Gray said: 'We are pleased the Transport Select Committee listened to our evidence and has supported our call for a mandatory Seafarers' Welfare Charter. The Charter is crucial to end the race to the bottom in pay and conditions exacerbated by P&O Ferries last March. Government must listen to us and the committee and ensure a robust and ambitious mandatory charter is brought forward as soon as possible. The future of Maritime 2050 hangs in the balance and government must act.'
---
Tags