International
Turkey-Syria earthquake: maritime unions deliver emergency aid to seafarers' families
16 February 2023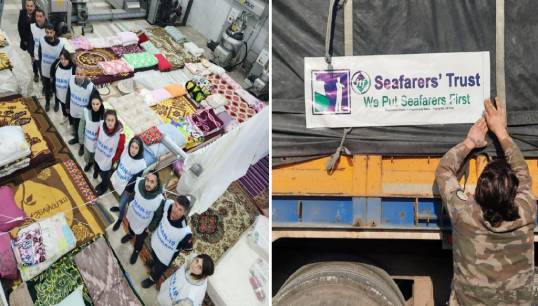 Seafarers' families impacted by the catastrophic earthquakes in Turkey and Syria have received £50,000 in emergency aid from the International Transport Workers' Federation (ITF) and its maritime affiliates, via the ITF Seafarers' Trust.
The funds have been spent on generators, heaters, blankets, clothing, hygiene products and food parcels for the immediate needs of families.
In Turkey the Trust was able to provide £30,000 to the maritime union Liman-Is which lost members in the aftermath of the earthquake and is actively involved in the critical emergency response. In Syria it was able to support the Lebanese Seamen's Syndicate's initiative to purchase and deliver £20,000 worth of goods from Lebanon to union contacts in Latakia – the principal port city in Syria and a centre of the devastation caused by the earthquake.
Thanks to existing relationships cemented during the Covid pandemic, the ITF Seafarers' Trust was able to respond quickly to requests from unions closest to the areas affected. The Trust is also likely the first outside aid agency to cross the border into Syria thanks to good connections with the Syrian maritime union (not an affiliate).
Chair of the ITF Seafarers' Trust Dave Heindel said: 'This is a drop in the ocean in the face of such a tragedy, but we were proud to react quickly to the requests for immediate assistance and stand by to offer further support as the situation develops.
'We are fortunate to have trusted, proactive affiliates in the region who are able to reach the families of maritime workers' in their time of need.'
The ITF and the European Transport Workers' Federation are also establishing an earthquake solidarity fund for donations and coordinating with other affiliates for further support as needed in the region.
---
Tags