Health and safety
UK checks reveal hydrogen sulphide risk to crew onboard specialist vessels
24 May 2023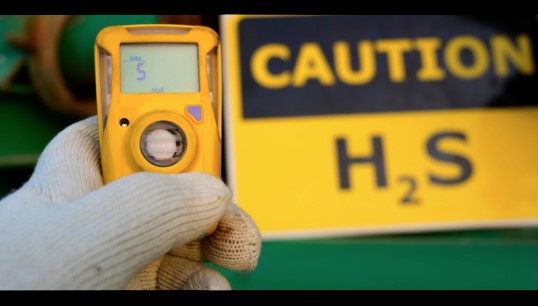 Checks of onboard specialist production and storage vessels in UK waters have revealed alarmingly high concentrations of a gas which could instantly kill crew members and can pose a threat to vessel safety by corroding steelwork.
In response to the findings, the Health and Safety Executive (HSE) is warning operators of floating production storage and offloading (FPSO) and floating storage and offloading (FSO) vessels and floating storage units (FSU) to take a series of measures to combat the dangers.
The problem
The HSE says investigations using specialist equipment have identified very high levels of hydrogen sulphide (H2S) in ullage spaces of cargo and slop tanks onboard some FPSOs and FSUs operating in the UK continental shelf.
It warns that the levels found – up to 16,000ppm – are above the upper measuring limits of the standard portable gas monitoring equipment generally used onboard tankers and FPSOs, and may therefore go undetected. Crew members monitoring tank atmospheres with such gear may therefore be unaware of such high concentrations.
H2S – also known as sewer gas or swamp gas – has a smell of rotten eggs and is highly toxic and flammable. It is generated by sulphate-reducing bacteria in cargo and slop tanks, especially those containing oil with high water cut.
Hidden dangers
The HSE warns that inhaling even a single breath of H2S concentrations over 1,000ppm can cause immediate collapse with loss of breathing and it says there is a risk that crew may be exposed to the gas as a result of venting operations to maintain tank pressure or unintentional releases caused by the poor integrity of pipework. Gas from low pressure releases may not disperse in mild wind conditions, it adds, and can also accumulate in isolated pockets onboard.
The gas can also pit and corrode steel, which may affect the integrity of cargo containment systems and hull structures.
In a special safety bulletin, the HSE calls for operators to revisit and review their risk management measures and to use appropriate equipment to regularly monitor ullage spaces of cargo and slop tanks for the presence of toxic gases such as H2S.
Safety improvement recommendations
Operators should also provide 'necessary information, instruction and training to anyone onboard about the risks and any additional control measures implemented'.
The HSE stresses the need to review risk assessments for routine ullage space gas monitoring, sampling and other tasks where individuals could be exposed to H2S and to provide crew with suitable respiratory protective equipment, emergency escape breathing devices, personal gas monitoring equipment and pressure containment equipment.
Operators should also review hull integrity management and inspection arrangements in way of cargo and slop tanks so that any 'accelerated degradation mechanisms' that can affect the structural or watertight integrity of the hull can be identified.
The safety bulletin suggests that operators could use fixed gas monitoring arrangements for cargo and slop tanks to avoid crew being exposed to toxic gas while monitoring with portable equipment and consider the use of preventive strategies such as increased frequency of dewatering cargo/slop tanks, biociding, and routine maintenance of cargo tank stripping systems to ensure availability.
---
Tags