Campaigning
Union demands better worker protections on first anniversary of P&O Ferries
15 March 2023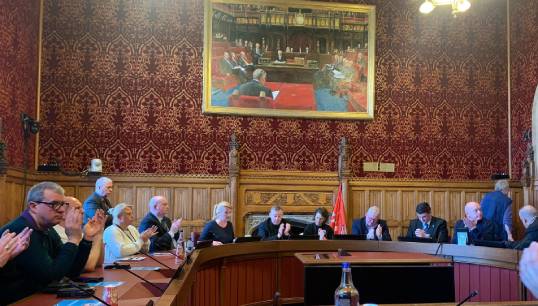 Nautilus led a week of action marking the first anniversary of the P&O Ferries' unlawful-sackings − warning other companies will exploit the same legal loopholes if the UK government continues to fail to act on its promises to close them and protect workers.
Nautilus executive officer Martyn Gray told a rally in Westminster: 'The 17 March 2022 was one of the darkest days in our country's maritime history; the day a once renowned brand that epitomised our proud maritime heritage couldn't even look 786 of their workers in the eyes as they sacked them.
'The government could have closed the legal loopholes that allowed P&O Ferries to buy their way out of consulting with us. Instead, this government has introduced a bill that could undermine the basic democratic right for maritime workers to engage in legitimate industrial action.'
Mr Gray said the Union was 'willing to be a constructive partner', but government 'must learn the lessons of last March.
'Government must commit to amending and strengthening the Trade Union Labour Relations Act, outlawing fire and rehire and ensuring any bi-lateral agreement with France or other neighbouring countries goes beyond just minimum wage.
'P&O Ferries' behaviour exposed much more than just low pay and poor terms and conditions It highlighted the significant legal imbalance that exists between workers and their employers.'
---
Tags