Campaigning
Unions call for disgraced P&O Ferries boss to be booted off Interferry speaker list
26 September 2022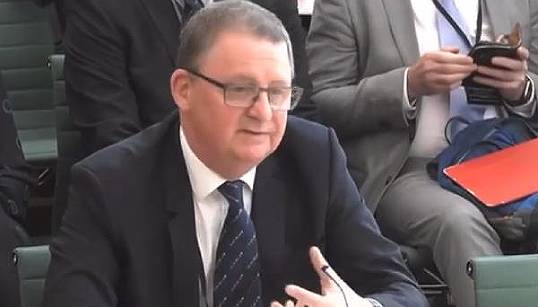 Nautilus International and the International Transport Workers' Federation (ITF) have expressed their outrage to the organisers of the annual Interferry Conference, after they invited disgraced P&O Ferries CEO Peter Hebblethwaite to speak at the Seattle event.
Mr Hebblethwaite has been asked to speak on the 'Power and People' theme of the conference, as part of the Ferry Leaders panel.
Mr Hebblethwaite has faced repeated calls for his resignation from across the political spectrum, including from the then-Secretary of State for Transport Grant Shapps and former Prime Minister Boris Johnson, following the company's actions in March 2022.
Mr Hebblethwaite brought the company into disrepute by summarily laying off nearly 800 UK seafarers via Zoom, to be replaced with agency workers on short term contracts paid on average £5.15 per hour and below the UK minimum wage. This was done without notice or consultation with trade unions, and without notifying the secretary of state as required under the law.
The CEO later admitted to a parliamentary select committee that he had known that this was unlawful and had deliberately chosen to do it anyway, and would do the same again. The UK Insolvency Service is currently pursuing a civil investigation into the company's actions.
Mr Hebblethwaite has since been voted Europe's worst employer by the Congress of the European Transport Workers' Federation (ETF) in Budapest in May this year.
In a letter to Interferry CEO Mike Corrigan, ITF maritime coordinator Jacqueline Smith asked him to consider rescinding the invitation to Mr Hebblethwaite.
'Peter Hebblethwaite stated in front of an official UK Parliament hearing that he knew he actions were illegal. Therefore, I find it incomprehensible that he should be invited to speak on an official panel promoted by an industry group… This conveys entirely the wrong message to not only seafarers but also the public and the wider industry,' she wrote.
'We hope that you reflect on this, consider the image and profile of the ferry sector, in particular as a place to work, and reconsider the invitation to Mr Hebblethwaite. All we ask is that seafarers are treated with dignity and respect.'
Nautilus International general secretary Mark Dickinson said: 'The actions of P&O Ferries must not be normalised by the industry. Interferry should immediately withdraw its invitation to Peter Hebblethwaite and send a strong message to its other members that this is not an acceptable way for a ferry company to behave.
'Seafarers, trade unions globally and in Europe, the public and MPs from all UK political parties were rightly outraged at Peter Hebblethwaite and his enablers and cronies. Interferry should take notice of this and act accordingly.
'Nautilus continues to await the decision of the Insolvency Service regarding P&O Ferries and its directors. I find it inexplicable that Interferry would invite a CEO who is currently under investigation to speak at its conference.'
---
Tags