International
US imposes strict new travel restrictions to stem covid variant spread
4 December 2021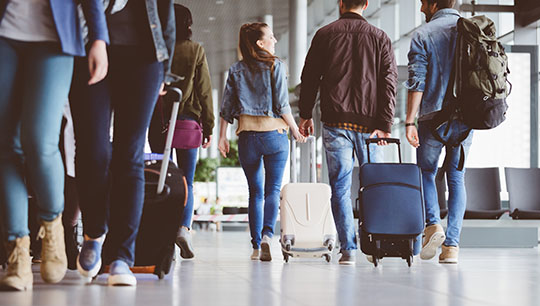 The United States has made several significant changes to rules affecting travel into the country.
From 00:01hrs EST (05:01hrs GMT) on Monday December 6 all passengers aged two years and older are required show a negative Covid-19 test result taken no more than 24 hours before travel, or documentation of having recovered from Covid-19 in the past 90 days, before they board their flight.
Both PCR and antigen (lateral flow) tests will be accepted. Self-testing is not currently recognised.
The rules apply equally to vaccinated and unvaccinated passengers.
The last point of departure includes connecting flights to the US. Some air passengers may be required to lay over for longer in their final point of departure before reaching the US, Deputy Assistant Secretary for International Activities at the US Department of Transportation Mr Joel Szabat said.
'That's the price the US government is willing to pay to ensure more protection from bringing other strains of the virus into the US from overseas.'
There are no exemptions for seafarers, Mr Szabat said.
There are additional requirements for unvaccinated travellers, including people who have had a jab that is not approved by the World Health Organisation (WHO).
Unvaccinated travellers must prove the same negative results 24 hours in advance of arrival but will also be required to self-quarantine for seven days in the US.
Additionally, unvaccinated travellers must take two more tests on day three and day five. Passengers who test positive during that time will have to undergo a further, as yet undefined, isolation period.
Last week the US introduced flight restrictions from South Africa and seven other countries in southern Africa. From Monday flights will be banned from Botswana, Eswatini, Lesotho, Malawi, Mozambique, Namibia, South Africa and Zimbabwe.
All non-US citizens wishing to enter the US from any of those eight countries must be outside of those eight countries for two weeks, 14 days, before they can come into United States.
Seafarers arriving within 14 days on vessels from one of the eight banned countries will not be allowed off the ship.
Transiting to vessels
Both vaccinated and unvaccinated seafarers travelling into the US on a C1 or D visa to transit directly to their place of work onboard a vessel that is leaving the country will continue to be able to do so, Mr Szabat said.
Seafarers working in the cruise industry must continue to adhere to the conditional sale order of guidance set out by the Centres for Disease Control and Protection (CDC).
Cruise operators should test crew on days three and five and be able to show negative tests if requested by officials.
Short term testing leeway
The US government has allowed for some leeway on the requirement to test negative within 24-hours of arrival.
'We are aware that there are travellers coming to the US who have already booked flights that will be coming in next week in which they will not be able to get tests in 24 hours in their final point of departure,' Mr Szabat said.
'In those cases, airlines are authorised, but not required, to provide flexibility and allow people to enter the country with a negative test taken within 72 hours until Thursday December 9.'
The decision will be made on a case-by-case basis between the passenger and the airline, he said.
Difficulty in accessing tests
The US State Department maintains a list of 24 countries where it is more difficult to get Covid tests in a timely manner, Mr Szabat said.
As a result, passengers arriving from any of those 24 countries between Monday December 6 and Thursday December 9 can have a test done within 48 hours of final departure to the US rather than 24 hours.
The CDC will publish that list of countries in its Questions and Answers page shortly.
All the latest CDC travel requirements can be found here.
---
Tags