Health and safety
Calls for improved safety of container shipping after Mumbai Maersk grounding
4 February 2022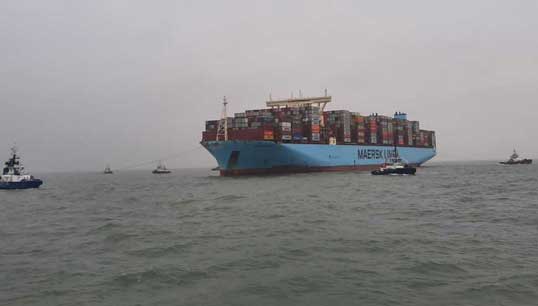 Calls for measures to improve the safety of container shipping off the Dutch and German coastline have been reinforced by the grounding of a Maersk ultra large containership (ULCS) near the Wadden Sea.
The 20,568TEU Mumbai Maersk was refloated just over a day after it ran aground at around 2305hrs on 2 February near the German island of Wangerooge.
Maersk said the Danish-flagged vessel had grounded on 'a shallow patch' while approaching the river Weser on a voyage from Rotterdam to Bremerhaven, but there was no pollution and no sign of a hull breach.
In an emergency operation conducted by the salvage company Smit and the German maritime emergency unit Havariekommando, additional tugs were brought in after an initial attempt to free the 214,286gt vessel proved unsuccessful.
Eventually, eight tugs – including the offshore tug Union Sovereign, with a 178 tonne bollard pull, and the multi-purpose vessel Neuwerk, with 113 tonne bollard pull – managed to refloat the ship on the following high tide, and it was then able to proceed to the port of Bremerhaven escorted by a tug.
Maersk said further hull and machinery assessments had been carried out before the ship was able to continue its voyage and, it added, 'an internal investigation into the cause of the grounding will be taking place'.
The incident has come at a time when Dutch, German and Danish authorities are considering calls for tougher controls over container shipping in the environmentally sensitive Wadden Sea area. An investigation into the loss of 342 containers from the ULCS MSC Zoe in heavy weather in January 2019 warned of the route-specific risks facing large, wide-beam containerships near the islands – an area on the UN World Heritage List – especially during heavy weather.
The investigation expressed concern that the 'super-sizing' of containerships was outstripping the pace of regulation and it urged the coastal states to table plans at the International Maritime Organization (IMO) for measures to prevent the loss of containers on both shipping routes north of the Wadden Islands. The report suggested this could involve a review of technical standards, the introduction of restrictions, recommended routes, precautionary areas, traffic control and/or information provision.
---
Tags