Welfare
ISWAN to improve high-priority welfare support through proprietary data analysis
16 December 2022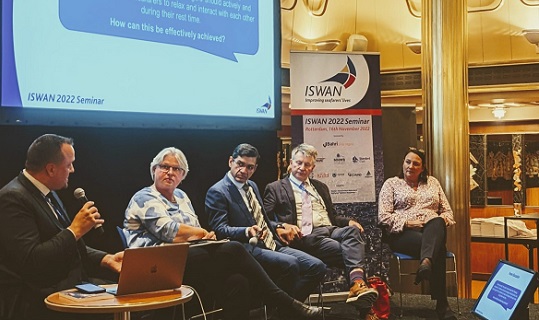 The International Seafarers' Welfare and Assistance Network (ISWAN) has committed to an increased focus on using data collected via its core helplines SeafarerHelp and Yacht Crew Help to provide better insight to the maritime sector about high-priority welfare issues.
The pledge was made at its Annual General Meeting (AGM) and 2022 Seminar on board the SS Rotterdam in Rotterdam, the Netherlands in November 2022.
ISWAN also launched a 'new and improved' membership offer at the AGM.
ISWAN members joined over 100 guests for a seminar on 'The importance of social interaction for seafarer wellbeing', which provided an update on its Social Interaction Matters (SIM) project to investigate the relationship between social interaction and seafarer mental health.
The project's phase two report and accompanying guidance and recommendations were published June 2022, presenting findings from live trials which took place onboard 21 vessels between November 2020 and September 2021 in partnership with 10 shipping companies.
Throughout the trials – which coincided with the height of the Covid-19 pandemic – the project team was so inundated with a wealth of additional data on leadership, fatigue, and safety that it became clear that the project should not conclude, but rather continue to be developed as a long-term initiative for the maritime sector.
ISWAN is planning two further phases of the project, which will explore the use of technologies such as wearables onboard and engage with other maritime industries to evaluate the effectiveness of the guidance and recommendations.
Nautilus International sponsored the ISWAN seminar. Nautilus director of legal Charles Boyle gave a presentation on seafarers' rights under the Maritime Labour Convention (MLC).
---
Tags