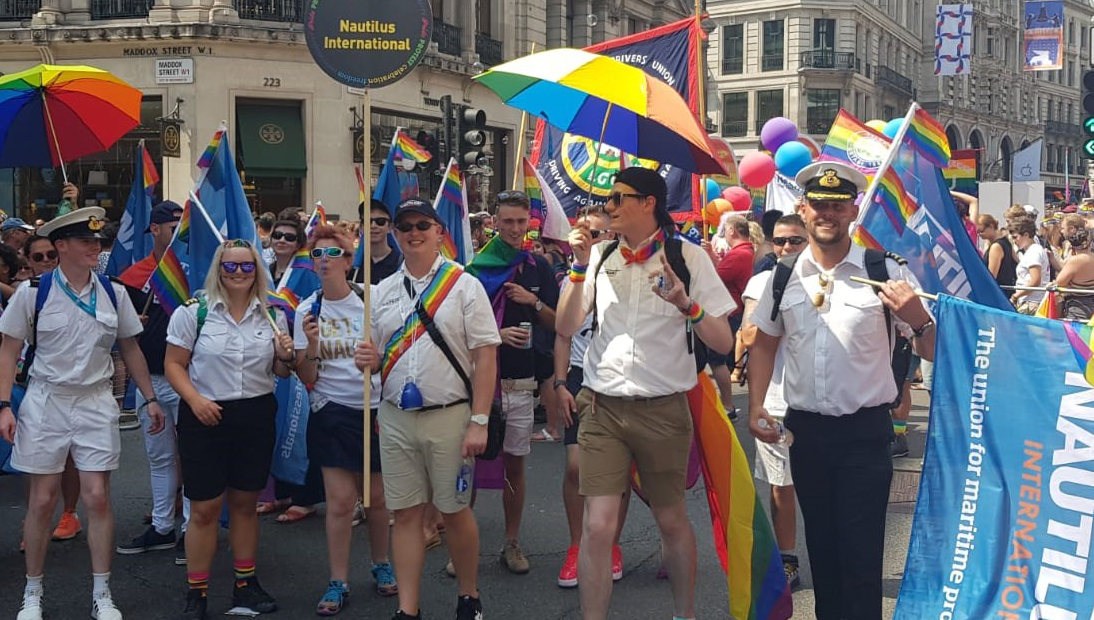 Nautilus members were encouraged to join in the second Pride in Maritime Day by attending a special industry event to discuss the experiences and visibility of the LGBT+ community and ways to increase allyship across the maritime sector.
On the day Danny McGowan, Nautilus head of international relations and chair of Maritime UK's Pride in Maritime Network, hosted a hybrid Pride in Maritime network and roundtable meeting in London and online from 11:00-13:00hrs on 28 February 2023. Guest speakers from the international community addressed LGBT+ issues on the path to a Just Transition to green shipping, and how to overcome barriers to LGBT+ diversity.
'It continues to be an honour to chair the Pride in Maritime Network, and to see LGBT+ people from across the UK industry taking part in making the world of maritime welcoming to everyone,' Mr McGowan commented.
'Building on the progress made by individual organisations in the past, the Pride in Maritime Network continues to take strides in ensuring that employers can access wider sections of the workforce than may have previously been possible. We urge everyone – whether LGBT+ or an ally – to take part in our Networks and Round Tables, to develop this important work.'
The first speaker – Martha Selwyn, the United Nations Global Compact manager - ocean – covered the roles of the Just Transition Task Force, and the Industry Peer Learning Group. She discussed the 10-point plan for a just transition in maritime, and how diversity relates to this.
Ingo Marowsky of the International Transport Workers' Federation followed by addressing the challenges and opportunities for LGBT+ diversity within the global transport industry.
Pride in Maritime Day has been established to share and celebrate progress for the LGBT+ community in the maritime sector and is held each year at the end of LGBT+ History Month in February.
Get involved
Let us know how you celebrate Pride in Maritime day by emailing: telegraph@nautilusint.org
Catch up with maritime historian Dr Jo Stanley's Zoom talk on ways seafarers of the past created morale-boosting entertainment on ships (hosted on the Blaydes Maritime Centre YouTube channel)
Don't forget to use the hashtag #PrideInMaritimeDay on socials so we can reshare
---
Tags