Welfare
Latest Seafarer Happiness Index report reveals onboard connectivity is critical for crew welfare amid concerns over working hours and vaccinations
27 April 2021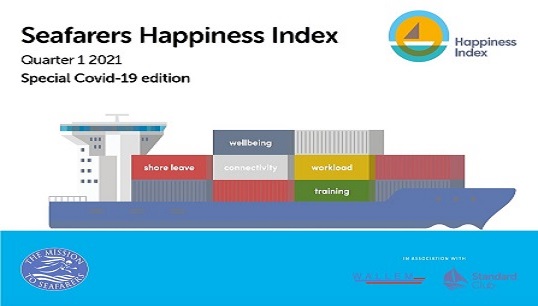 Mission to Seafarers has released the latest Seafarers Happiness Index report for the first quarter of 2021, revealing a mixed picture of seafarer welfare.
The report focuses on the impact of Covid-19 and the continuing negative effect of the pandemic on seafarers.
It highlights three main themes:
The consequences of a lack of recognition for seafarers as key workers
The onboard challenges of working hours and crew tension
The benefits of onboard connectivity and port welfare services
The crew change situation is a lingering cause of worry amongst seafarers, according to the report, with pressure to work excessive hours and tension caused by some nationalities being allowed crew changes and others not impacting crew wellbeing.
Seafarer vaccination was a clear area of concern reported by the Index, with seafarers feeling frustrated by uncertainty around when they will be vaccinated. This lack of progress and recognition as key workers has significantly affected seafarer's wellbeing.
However, there has been progress with getting seafarers online and connecting them with their loved ones onshore. Shipping companies have been working to provide crews with Wi-Fi access.
The Mission to Seafarers reports that this investment in crew connectivity has made a big difference in improving morale onboard.
Secretary-general of The Mission to Seafarers Andrew Wright said: 'Progress is slowly being made, but we cannot afford to let momentum stall. We hope to see seafarers recognised as international key workers, with the support that entails on everything from crew changes to vaccine access. Above all, we need to keep listening to our seafarers and take practical action now to meet their needs.'
The full report is available for download on the Mission to Seafarers secondary site, Happy at Sea.
---
Tags