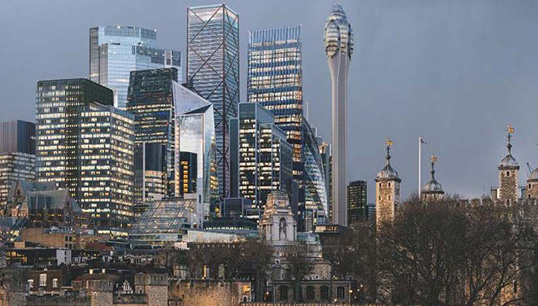 There has been widespread relief in the UK maritime community over the news that planning permission has been refused for a large new viewing tower overlooking the Merchant Navy Memorial on Tower Hill.
The proposed Tulip tower would have stood at 305m – second in height only to London's tallest building The Shard – and was intended for construction at 20 Bury St near the tower known as the Gherkin.
After a lengthy process of submissions, rejections and appeals to various London authorities, the proposals had been escalated to the UK government, and on 11 November 2021 the final verdict rejecting the plans was announced by Michael Gove MP, Secretary of State at the Department for Levelling Up, Housing and Communities.
In a rare decision by a government which usually looks favourably on tall buildings, the rejection was based partly on possible damage to the 320-year-old Bevis Marks Synagogue at the foot of the Tulip – coupled with potential visual harm to the Tower of London UNESCO World Heritage Site and its Local Setting Area, including the Trinity Square Conservation Area where the Merchant Navy Memorial lies.
Numerous objections to the plans on heritage grounds had been submitted by bodies including the Honourable Company of Master Mariners and Historic England, but as the November 2021 COP26 climate conference approached, there had also been increasing concerns about the carbon footprint of the proposed building.
---
Tags