Nautilus news
Merchant Navy heroes of global conflict remembered at Nautilus Mariners' Park
11 November 2021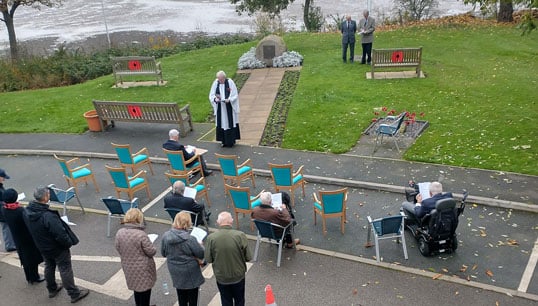 Retired mariners, families and staff at Nautilus Mariners' Park in Wallasey have marked Remembrance Day with a special service commemorating Merchant Navy seafarers who have served in global conflicts.
The Mariners' Park Estate annual Armistice service was held in the grounds by the Atlantic Stone on Thursday 11 November 2021. It was attended by retired mariner residents, families, and staff from the independent accommodation at the Estate, which is run by the Nautilus Welfare Fund. A separate service was also held for Nautilus Care Home residents.
During the commemoration the Red Ensign was raised in memory of Merchant Navy veterans. The Atlantic Stone commemorates veterans of the Battle of the Atlantic, some of whom have lived at the park.
Heroes, a poem written in 2002 by former Sydney pilot master David Partridge honouring Merchant Navy war heroes, was sent to residents ahead of the commemorations as a reminder of the service provided in both world wars by more than 30,000 seafarers on 'freighters, troopships, liners and tankers by the score, fishing boats and coasters, four thousand ships and more.'
Previously a hidden chapter in history, Merchant Navy seafarers have been properly honoured in the UK since 2000 at London's Cenotaph. Merchant Navy Day is now also commemorated on 3 September each year in memory of the day that the first UK ship was torpedoed by a U-boat – the transatlantic passenger liner SS Athenia, which sunk with the loss of 117 civilian passengers and crew – in 1939 during World War II.
The Union will also be represented during the public Remembrance Sunday commemorations on 14 November 2021, by members and officials, both at the Cenotaph in London and at the Westminster Abbey service and the procession to the grave of the Unknown soldier. General secretary Mark Dickinson will also lay a wreath at the Merchant Navy Memorial at London's Tower Hill.
---
Tags