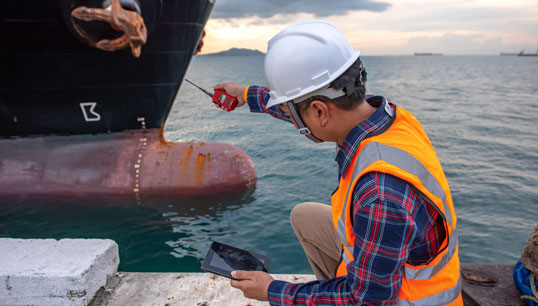 Global assurance and risk and classification society DNV has launched a mobile ship safety inspection app to market.
The launch comes at a time when Covid restrictions mean more and more seafarers are having to participate in remote inspections due to Covid-19 restrictions that prevent officials from coming onboard.
Rolf Buøen, DNV's principal marketing and communications manager, Ship Product Line, Digital Solutions, said that the app is tailored for use by ship inspectors from the company visiting vessels. 'It is intended for ship owners and managers such as superintendents, technical managers, DPAs and safety managers. This app is not intended for PSC [Port State Control] or Class usage. Now, after the recent software release it's better supported for use by the master/crew. '
The app received an endorsement from one master of a ship involved in piloting the app. Captain Aleksejs Sidorenko, managing director for Baltic ship management company LSC SIA, commented: 'We have been piloting the Mobile Inspection App for some time and really appreciate how easy it is to have an immediate and full overview of the inspection results onboard for our team to analyse.'
Odd Rune Malterud, chair of the International Transport Workers' Federation (ITF) maritime safety committee, said he had corresponded on the process of remote inspection – which also includes the DNV app – and that his input on surveys had also been implemented: 'So they appear credible when it comes to human factors. What is new is the use of a mobile phone. Then it is important that the shipping company owns and pays all expenses, it is suitable for the job, and is explosion safe and that the responsibility is enshrined in the ISM systems.'
The rise of remote inspections has led to concerns that seafarers – already often working beyond their hours – may end up taking on inspection work as well.
Mr Malterud comments:'In principle this should not entail an extra workload, but the crux of the problem is the minimum safe manning. More work is imposed on key personnel by them taking on inspections that were previously carried out by inspectors from Class, so to comply with the regulations, there must be an operations manning onboard – not just a minimum safe manning.'
---
Tags