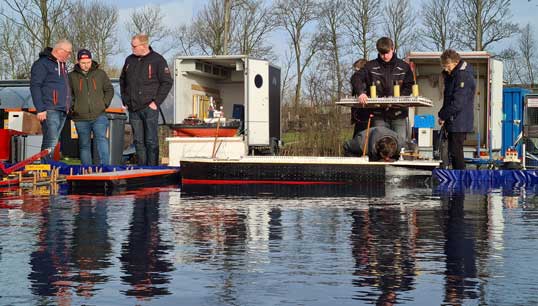 Nautilus was represented at a careers open day held by a leading Dutch vocational trainer in inland waterways transport, Maritime Academy Harlingen.
The Union is in regular attendance at this annual school event which aims to be a fun and educational insight into maritime careers.
Open day activities
Attendees at the open day, which was held on Saturday 5 February 2022, were able to see the vessels on which the maritime trainees are taught, as well as practice their seafaring skills on one of the simulators, or have a go at sailing one of remote-controlled boats (which are not, however, part of the curriculum). All the information needed to make the right maritime study choice was also available during the day, including information from Nautilus which had a special stand inside. In a coffee room, former students, teachers and visitors met to exchange information and just chat. All kinds of vessel parts on display added further interest.
Nautilus stand
The Nautilus stand attracted a good number of visitors at the open day. Former students also passed by with their own children, making for a family atmosphere as old friends were recognised and introduced their children to each other.
Visitors were then taken by bus to visit the maritime school's training vessels. The friendly atmosphere of the open days was reflected during one incident when a man from one of the Dutch islands visiting with his child was nearly late for his ferry, but one of the teachers gave them a lift.
Future growth
During the event, the director of the maritime academy Arjen Mintjes pointed to future plans for growth and renewal at the academy.
The renewal work must take into account a raft of potential future needs and situations such as staff shortages, sustainability, and automation in the future of maritime careers. Since future seafarers might also find themselves with the option of sailing on hydrogen vessels, trainees are taught how to deal with innovative forms of fuel, such as methanol, ammonia and hydrogen.
In addition, work is also in hand for a new building to accommodate students who stay during the week.
---
Tags