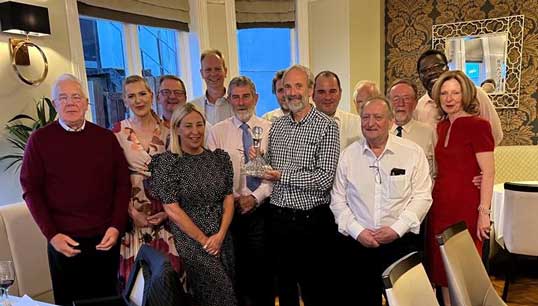 A former Nautilus Welfare Fund (NWF) manager is a winner of the 2022 Merchant Navy Welfare Board's (MNWB) prestigious Service to Seafarers' Welfare award.
Recently retired Mick Howarth was one of two recipients of the award, which recognises individuals who provide an exceptional level of welfare service to seafarers and fishing crew.
The other recipient was Debbie Lake, a full-time volunteer at the Lighthouse Seafarers Mission in the Falkland Islands.
Mr Howarth was recognised for the many improvements he had driven during his 10-year tenure at Nautilus Mariners' Park in Wallasey, including to the care services and accommodation.
Under Mick's stewardship, the NWF systematically improved its care provision through rigorous training of staff and support for residents, including the appointment of the first specialist dementia nurse in 2017 to boost the dementia service at the Care Home; and staffing levels were increased.
The introduction of new activity coordinators, including a specialist men's health coordinator in partnership with AgeUK, has enabled the NWF to offer a much wider range of activities and trips out, making a real difference to the lives of people Nautilus cares for.
Stuart Rivers, chief executive of the MNWB said: 'Both Debbie and Mick's devotion to the welfare of seafarers is admirable and they are so well respected by the entire maritime community. They have proved to be invaluable assets to this sector and are worthy winners of this year's award.'
---
Tags