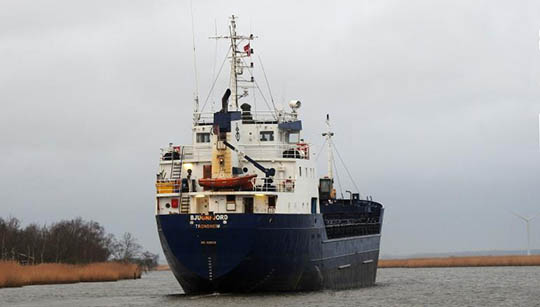 The Norwegian coaster Bjugnfjord sank between Denmark and Sweden in the early hours of Friday 21 January after running into bad weather the night before. All five Norwegian crew members were airlifted to safety by a Swedish rescue helicopter. Two Swedish and one Danish search and rescue helicopters attended.
Two crew were lifted from the ship while the other three were rescued from a lifeboat. They were taken to Lund hospital, Sweden. All five are reported to be uninjured. The Danish frigate Niels Juhl also attended the scene.
The Danish Maritime Authority (DMA) said in a statement that the wreck site had been marked with an AIS marker which can be seen on naval electronic maps. Shipping in the area has been warned to take care. DMA vessel Poul Løwenørn was sent to the scene to physically mark the area with a buoy and measure sea depth.
It confirmed that the 2,350 GT vessel (IMO: 7502021), built in 1976 and registered in Norway, is now on the seabed at a depth of some 24 metres. It sank at 01:30hrs, 11nm north of Gileleje, Denmark, in a busy shipping lane.
The Danish military operations centre said the sea had been inspected with infrared light. Some fuel had been spotted but was not headed for shore and was expected to evaporate.
The DMA said it has the power to require the wreck to be reduced in height above the seabed, or to be salvaged and removed if it is deemed a risk to shipping or fishing vessels. Its investigation unit will work with the flag state, Norway, to clarify what happened. Based on its report, the DMA will decide whether any laws have been broken and if further action should be taken.
The Danish Armed Forces downplayed a suggestion from London-based risk management consultants EOS Risk Group that the vessel had reported being harassed by an unidentified vessel. It told the Nautilus Telegraph: 'The Danish Armed Forces has no indication that other vessels were involved in Bjugnfjord's sinking.'
EOS said on Thursday it was 'a realistic possibility' the incident could have involved a Russian warship. EOS, which lists maritime intelligence and advice among its services, was asked to substantiate its statement but did not return our call.
EOS deleted the tweet Friday afternoon.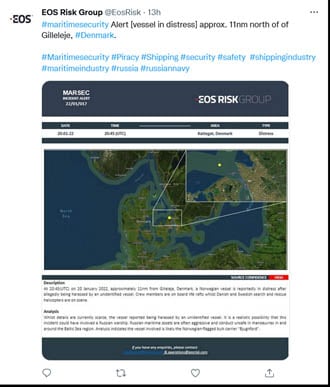 Fosenfrakt, the ship's operator, reportedly said the ship started listing heavily after its load of topsoil shifted. The company has been approached for comment but did not reply by deadline. Its home port is in Tinboden, Norway. It started operations from a Toyota Hiace van in its early years. It operates with Norwegian crews and has 22 employees, and says environment and safety are key to its operations.
The captain is said to be experienced and long serving on the vessel, which regularly plied the Norwegian coast and ports in northern Europe.
---
Tags