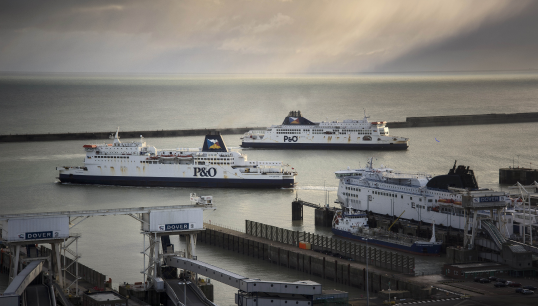 Nautilus is asking members with P&O Ferries (Jersey) Ltd, P&O North Sea (Jersey) Ltd & P&O Irish Sea (Jersey) to vote on a pay offer that has been submitted to the Union.
The Union is now no longer in dispute with P&O, after the company agreed to Nautilus's Proposal to set up a joint working party that will discuss the hours of work/rest of officers on all vessels attached to the Short Sea, which includes the safe and appropriate crewing levels in all departments, watch patterns, work rosters, and sailing schedules.
On 11 November, head of industrial Micky Smyth, liaison officers Phil Lees and Ian Cross (Short Sea) and Jason Moore (North Sea) met with P&O's Peter Hebblethwaite (MD, Ropax), Tor Farquhar (HR director) and Steven Nee (head of IR/ER) to discuss matters including pay.
During discussions, the P&O representatives said that they recognise the need to review pay; however, they stated that the company has a small pot of money and that shareholders have taken on debt to rebuild the business and will only continue supporting P&O if it is a sustainable business.
They therefore made a pay offer that the Union's liaison officers from all sectors considered to be unacceptably low.
'I expressed my extreme disappointment with this offer, as employees have worked really hard through the pandemic and continue to do so, both on the vessels and shoreside,' said Mr Smyth. 'I then pointed out that competitors have agreed to more appropriate pay increases. Nautilus warned that the company would face problems recruiting and retaining officers on the current wages.'
Following the meeting and feedback received from members, P&O supplied Mr Smyth with an improved offer to take to members:
An increase of 1.3% on base pay (and therefore all pay items driven by the base pay rate) backdated to 1 January 2021
An increase of 3% on base pay (and therefore all pay items driven by the base pay rate) with effect from 1 January 2022
A £250 lump sum to be paid if the company achieves operating profit targets for Q1, and a further £250 if targets are achieved in Q3
A £300 lump sum to be paid on or about 1st January 2022 in return for an early agreement without disruption on this pay offer
Members with P&O are encouraged to vote on this offer at www.surveymonkey.co.uk/r/SO463MS
During the meeting, the Union also provided anonymised member feedback on how the company can make savings, as requested by P&O, and received data in relation to sickness levels and associated costs, which also included the costs of recall and agency staff on the vessels.
Mr Smyth also highlighted that the company no longer has sufficient crewing numbers of officers in all ranks, and that it no longer keeps on qualified cadets so that they can achieve sufficient time and experience to sail as an OOW, which would assist the company in reducing agency costs. In response, Mr Hebblethwaite and Mr Farquhar said that they would examine minimum crewing numbers.
---
Tags