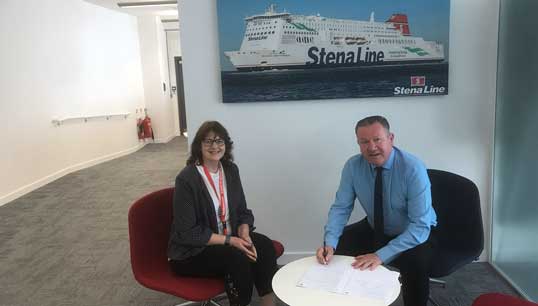 Nautilus members at Stena Line will receive a 2% one-off uplift in salaries from July 2022 in recognition by the ferry company of increasing inflation costs in the UK.
This non-consolidated uplift is in addition to the overwhelming vote in April 2022 to accept a 2% supplementary uplift effective from January 2022 as part of a three-year pay deal. The latest non-consolidated uplift will be calculated on the post- January 2022 rate and made on a monthly basis until December 2022
The company has also recognised the UK's additional public holiday for the Queen's Platinum Jubilee and has agreed to pay an additional day's pay to officers in their June 2022 salary.
It has agreed to enter into further discussions with trade unions regarding pay later in 2022, when the UK government's new employment requirements and protocols for the UK Ferry Sector are available.
Nautilus head of industrial Micky Smyth said he had written to Stena Line's group head of industrial relations Andrew Shaw thanking the Board for the uplift which 'recognises the impact of the highest inflation rate for 40 years in the UK on all employees. We also requested that this be backdated, and members' salaries be uplifted as soon as possible as per their letter.'
Nautilus and Stena Line have also signed an updated Recognition and Procedural Agreement.
Mr Smyth said: 'The Stena Line Agreement is now fit for purpose in providing appropriate representation facilities and protocols, which reflects the benefits of working in the spirit of cooperation and partnership in maintaining a professional working relationship.'
---
Tags