Nautilus news
Sea to City Symposium joins the dots for seafarers looking to move ashore
14 September 2021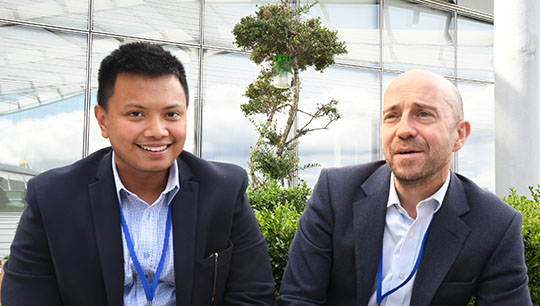 Seafarers at the Sea to City Symposium at London International Shipping Week have described to attendees just how difficult a move ashore can be, and how much easier it is with the right networks.
The Nautilus International/Maritime London Sea to City networking initiative seeks to plug the gaps in knowledge by pairing seafarers looking to move ashore with maritime professionals in the services sector. The scheme runs for six months with mentors and mentees encouraged to meet at least four times, after which mentors and mentees can choose whether to continue the initiative.
The programme, which has been running for one year, has helped five seafarers in their transition ashore.
Attendees at the symposium heard that moving from a sea-going career to shoreside is a very personal journey and different for every seafarer, but one commonality is that many struggle to access networks that can help them make it happen.
It can be intimidating, and seafarers can end up scrabbling around trying to find the right fit.
From questions about retraining, to what jobs are available and what skills are in demand, the challenges can seem daunting, and for many, the hurdles too high. The result is often a return to sea or a move out of the maritime industry altogether.
Nautilus International general secretary Mark Dickinson welcomed the Sea to City initiative and described how the union seeks to support members at sea and on shore. He acknowledged the need to provide more training and support for seafarers to allow them to access the wider maritime cluster.
Maritime London chairman and chair of Spinnaker Global Phil Parry, who has worked with many seafarers seeking shore-based jobs, said: 'The most important thing that seafarers need to know is that they need to provide evidence they have the skills employers are looking for.
'Your mentors ought to be able to help.'
Attendees at the event heard from Second Officer Ron Llamas, one of the seafarers who has successfully transitioned ashore as part of the Sea to City initiative. He has just paid off from his final contract.
Mr Llamas described his journey from cadet trainee at Fleetwood Nautical Campus to second officer on tankers. A third-generation seafarer, Llamas wanted to make a move ashore pre-pandemic, but failed to make the right connections to or identify job opportunities.
He was paired with Mark Glasgow, director of Pacific Navigation Ltd, who joined the initiative to support the next generation of seafarer in the same way that he was helped in the early days of his career.
Under Glasgow's stewardship, Llamas has now decided to study for an MSc shipping operations at Solent University instead of upgrading his license and taking a chief officer promotion.
When asked what was different this time, Mr Llamas said: 'I have a better idea of what jobs are available to me, and have made a number of connections in the industry which has helped pave the way.'
Aqualis Braemar LOC surveyor Fena Boyle described how meeting people at industry events such as LISW can help to open doors, and encourage seafarers considering a move ashore to put themselves out of their comfort zone as a chance meeting could lead to that next career move.
She reminded attendees that no job is for life, and that if something doesn't work out, there will be other opportunities.
Speakers at the event felt that introducing a degree qualification for masters could help with recognition for seafarers when moving ashore, but that determination and grit were more likely to get that all-important first interview.
Practical advice in considering likely compromises came from Mark Glagow, who recalled having to drop from £8,000 per year to £2,000 per year 'in the blink of an eye' when he left his seagoing career. Add to that taxation and a step down in status from master to 'office boy', and, if you're not prepared, it can become a humbling experience, he said.
While seagoing skills are invaluable to maritime services firms, they also face challenges in finding the right talent for the job. Steve Cameron, representing the Marine Society, described the 'learning process' for many organisations in understanding that someone used to a hierarchical management structure may need additional support when joining a more fluid team or company.
The Marine Society runs the Coming Ashore mentoring program, which also supports seafarers make the transition to shore-based roles.
Following the event a live drop in space was available on the Hopin platform, where attendees could meet with potential mentors and learn more about the Sea to City initiative.
The event was held at Norton Rose Fulbright offices in central London, with another 100 attendees signing up via Hopin, Zoom and Facebook Live.
A networking lunch was held on the terrace following the event.
Nautilus members looking to make a move ashore can sign up to the Sea to City networking scheme by emailing: campaigns@nautilusint.org
Maritime services professionals interested in becoming mentees can email: enquiries@maritimelondon.com
---
Tags