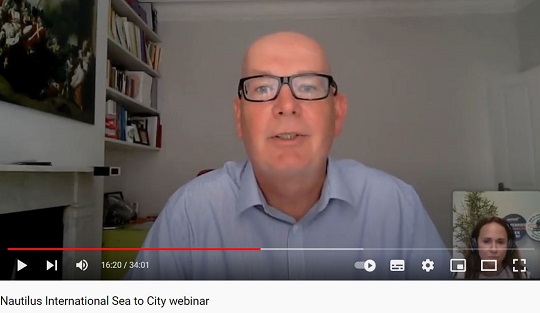 A former master mariner has shared his top tips for moving ashore with Nautilus members in a webinar dedicated to the benefits of mentoring.
The new webinar series 'Sea to City: Making the move' launched on 13 July with guest Richard Meikle, partner and Master Mariner at Solis Marine Consultants, who spoke about his own experience on the transition from sea to city.
Richard was at sea for 20 years, starting out as a deck cadet gaining experience at P&O Group (cruise), dry bulk, containerships, and reefers before following an opportunity into cruise with the P&O-Orient owned Canberra. There he worked his way up to Master before the business failure of his American employer and a downturn in the industry forced him to rethink his career options.
In a wide-ranging conversation, Richard encouraged seafarers to recognise the value of their experience: 'Maritime skills are in high demand in City jobs ashore,' he said.
He advised them to find a mentor with whom to talk through practical considerations of a move ashore, such as expectations in salary, pensions and taxation, which can differ widely.
In a cyclical industry like maritime timing can be important, so knowing whether a sector is 'on the up' or in decline could prove invaluable in terms of career change focus.
The flexibility in working patterns brought about during the Coronavirus pandemic has made City jobs more attractive to many seafarers, who may have previously been put off by the cost of living in the capital.
When a mentoring partnership works well, it can develop into a long-term relationship, with support provided throughout an individual's career. Richard joined Sea to City in its first wave, and remains in regular contact with his mentee, guiding him through each subsequent move.
Catch up with the Sea to City webinar here.
The Sea to City mentoring scheme is open to all full members of Nautilus International. It is a joint programme with Maritime London.
Richard's top tips for moving ashore
Richard's top tips for moving ashore
Get a mentor: there are several free industry services that can provide information and assistance to seafarers considering moving ashore. Sea to City is an informal mentoring scheme that fits around work at sea
Do the sums: shore-based jobs can pay less than those at sea – and very few have tax free status! Make sure you can afford to move ashore when you want to
Be realistic: seafaring skills are in high demand in maritime jobs, but if you come ashore with a second or third ticket you will have different opportunities than a chief officer or captain
Learn to network: consider joining shore-based networking groups before you move ashore to make contacts with potential employers and ex-seafarers – but beware, you may have to pay membership fees
Volunteer for the Nautilus Council: video conferencing now means more seafarers can take part in Union activities while at sea. It looks great on your CV and demonstrates a commitment to shore-based businesses.
Missed the webinar? Catch up online
---
Tags