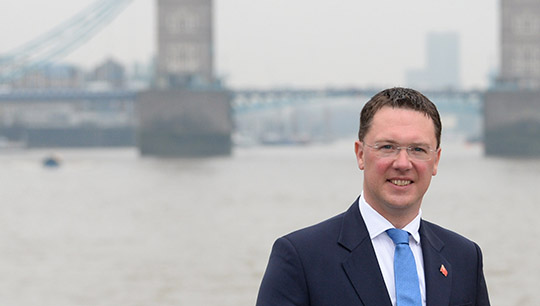 Maritime Minister Robert Courts officially launched the Department for Transport's Maritime Biennial Report on HQS Wellington during London International Shipping Week.
The report marks progress made over the past two years against the Maritime 2050 Strategy, which sets out key deliverables for growing the maritime sector across several target areas including People, Technology, Environment, Trade, Infrastructure, Security and Resilience. It further sets out ambitions for the coming 12 months.
In welcoming the report, Mr Courts emphasised the profound affect the Coronavirus pandemic has made on the maritime profession, with seafarers spending far more time away from home than ever before during the crew change crisis.
In referencing the sacrifices seafarers made during the pandemic Mr Courts said: 'Above all we must never forget the people in this sector. It's the people, the seafarers, the workforce, that is critical to our success. This sector is the lifeblood of this country.
'The maritime sector has done what it always does in times of war and peace, supply the nation with the goods it needs, and we really appreciate that.'
The government's ambitions include a 'cadet review' to better understand future maritime skills requirements; further work with the Maritime Careers Taskforce to promote the sector to young people; develop maritime apprenticeships to enable new routes into maritime careers; and to take further action to improve diversity within the industry.
A full copy of the Maritime Biennial Report can be downloaded from: www.gov.uk/government/organisations/department-for-transport
---
Tags