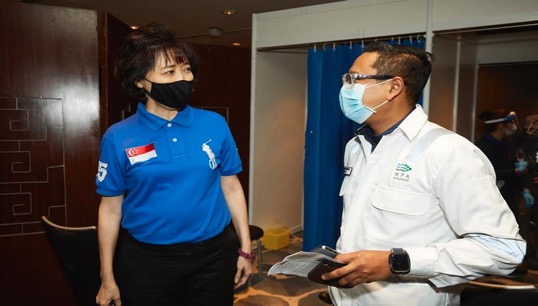 The Singapore Shipping Tripartite Alliance Resilience (SG-STAR) Fund Task Force has announced that from 30 September, international seafarers signing on in Singapore will be able to receive a Moderna Covid-19 vaccination dose before joining their vessel.
Nautilus Federation affiliate the Singapore Maritime Officers' Union (SMOU) is part of the task force that will be looking into protocols to open up the country's vaccination scheme.
SMOU general secretary Mary Liew said: 'Thanks to our government's understanding and the efforts of our tripartite partners – Maritime and Port Authority of Singapore, Singapore Shipping Association and the labour movement – pushing for the protection and welfare of local and international seafarers.'
Vaccinations will be administered at a dedicated facility situated at the PSA Tanjong Pagar Terminal Workshop. Details for employers to make arrangements for eligible seafarers can be found here.
---
Tags