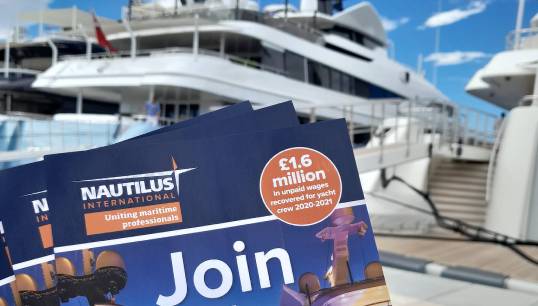 Nautilus International recovered a record amount of money for members in the yacht sector during 2022: more than £2.75 million in unpaid wages and benefits.
This is more than the combined total achieved by the yacht and legal departments for both 2020 and 2021. Nautilus recovered £943,000 for 2021, which was at the time the largest figure ever recovered by the Union, and £720,000 in 2020.
Yacht crew assisted by the Union – who must remain anonymous due to the sensitive nature of their work and tight non-disclosure agreements – have expressed how pleased they are with the service. One service stewardess on a Cayman-flagged vessel in Mediterranean waters said: 'Thanks for getting involved, as I am the only person onboard who has received salary for November. If you hadn't intervened, I'd still be waiting!''
'We are proud to have helped so many of our members receive the pay that they have earned, but which had been denied to them before our intervention,' said Derek Byrne, head of the Union's yacht sector.
'Maritime professionals work hard and deserve to be paid their wages on time and in full. Unfortunately, this is not always the case in the yacht sector. The figure we have achieved in 2022 should remind those working on yachts that Nautilus membership is an essential safeguard against non-payment of wages, or other poor treatment by employers.'
The 2022 figure reflects a significant growth in the number of members working in the superyacht sector over the past year. Nautilus International is recognised by the International Labour Organization as the global trade union for the yacht sector.
The increase is also attributable to several cases of non-payment involving members working onboard Russian-owned yachts, which have been affected by ongoing sanctions relating to the war in Ukraine.
'2022 was a difficult year for many in the sector,' Mr Byrne noted. 'It goes to show that global events can and will impact seafarers in unexpected ways. However, Nautilus International stands ready to assist our members in any way we can.'
Got a problem? Get in touch
If you experience any issues with late payment of wages it is essential that you get in touch with the Nautilus yacht team immediately so that we can give you advice and support. This will make it more likely that we can successfully reclaim the money you are owed.
As soon as you have a problem you should ensure you have copies of all relevant documentation, in case your employment is terminated before you can gather them. This includes a copy of your seafarers employment agreement (SEA), copies of all expenses owed and receipts, plus details of any accrued leave.
Contact yachts team
---
Tags