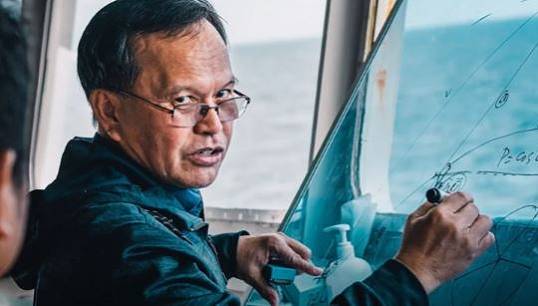 UN organisations, shipowners and trade unions have come together at the COP27 climate summit in Egypt to launch a decarbonization action plan for the global seafaring workforce.
The Mapping a Maritime Just Transition for Seafarers paper was commissioned by the Maritime Just Transition Task Force, which was formed at COP26 in Glasgow from key industry stakeholders to ensure that shipping's response to the climate emergency consults the needs of seafarers and communities. Nautilus International was one of the contributors to the paper.
The paper puts forward a 10-point action plan in response to new research warning that hundreds of thousands of seafarers will need reskilling to handle alternative fuels in the run-up to 2050, as shipping seeks to decarbonize.
The three emission reduction scenarios assessed in the research highlight an immediate need to start putting the training infrastructure for this in place.
The findings also suggest that a lack of certainty on alternative fuel options is having a knock-on effect for seafarer training.
In response to the training challenge that the modelling lays bare, the Action Plan makes recommendations for industry, governments, seafarer unions and academia (including training providers). These include:
Strengthening global training standards and monitoring which skills are needed/taught
Investing in training and skills
Ensuring a health-and-safety-first approach
Establishing advisory national maritime skills councils
Addressing problems with seafarer recruitment and attrition
The International Transport Workers' Federation (ITF) – of which Nautilus International is a member – is part of the Maritime Just Transition Task Force.
ITF general secretary Stephen Cotton commented: 'All three scenarios identified require some form of retraining the workforce. The good news is that seafarers are prepared and willing to be part of this transition. But crew want to know that the fuels they're handling are indeed safe, and that we as an industry have the training pathways established to upgrade their skills.'
International Labour Organization (ILO) director-general Gilbert F. Houngbo added: 'A Just Transition to addressing the climate crisis must be human-centred. Greening the economy in a way that is as fair and inclusive as possible to everyone concerned, creating decent work opportunities and leaving no one behind, is essential.
'Efforts to decarbonize shipping should be undertaken in accordance with the ILO Guidelines for a just transition towards environmentally sustainable economies and societies for all. Doing so will achieve a transition for seafarers and other maritime workers based upon the importance of labour standards, productivity, skills development, lifelong learning, social justice and equality, and which is therefore truly sustainable.'
---
Tags