Switzerland
Nautilus Swiss symposium flags fairness and precarious working conditions in inland waterways
13 October 2022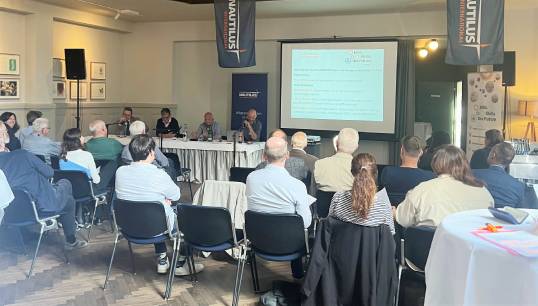 Nautilus has highlighted the 'special social dimensions' of ports and the potential for precarious working conditions in inland waterways during its symposium in Switzerland.
Nautilus general secretary Mark Dickinson told the symposium that 'politicians, the authorities and the public need to look closely, to get an overview of the domestic and foreign companies that use the infrastructure and the working conditions they grant.'
The symposium heard that plans for a publicly financed trimodal container terminal in Basel, Switzerland – known as the 'Gateway Basel-Nord' – have made many people both nationally and internationally aware for the first time that the greater Basel area is an important freight transport hub.
'The Rhine provides the link to maritime world trade, to the so-called ARA ports, Antwerp, Rotterdam, Amsterdam,' said Mr Dickinson.
'The Basel region with its three existing ports is already of enormous importance for national and international supply chains and its importance could even increase in the future. This means not only the quantitative but also the qualitative aspects of freight transport. In ecological terms: if the enormous sustainable potential of shipping is redeemed by new propulsion technologies and integrated with rail as a mode of transport and with road transport that mainly has a distribution function in the local area.
'It is this important combination that underlies the plans here in Basel.'
Ports fundamentally always have a 'special social dimension,' said Mr Dickinson. 'Different, unfortunately often very precarious, and non-transparent working conditions of the transport workers who call at them with their goods by ship, lorry, or train, culminate here in many ways. This is particularly true for Basel with its special location with borders to France and Germany.'
Mr Dickinson welcomed the 'opportunity and responsibility' provided by the Union's symposium, attended by speakers from unions in Switzerland and the UK, to hear examples of good practice and 'secure binding social outcomes'.
---
Tags