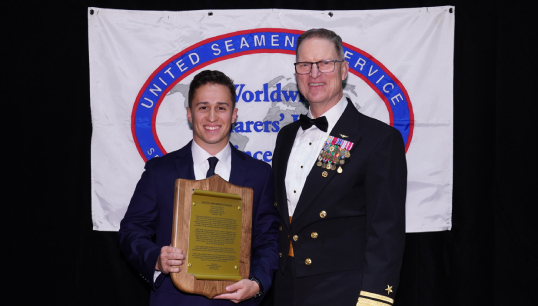 Seafarers have been recognised for their bravery at the recent Admiral of the Ocean Sea (AOTOS) awards.
The United Seamen's Service, which hosts the AOTOS event in New York City, honours US seafarers involved in rescues at sea, as part of an annual tradition.
Two vessels crewed by the International Organization of Masters, Mates and Pilots (MM&P) and the Marine Engineers' Beneficial Association (MEBA) were selected as honourees and invited representatives accepted AOTOS 'Honored Seafarer Awards' on behalf of the crews.
The first award was presented to the officers and crew of M/V CMA CGM Herodote, for their part in the rescue of three fishermen off the coast of Japan in March 2022.
The crew saw billowing smoke about eight nautical miles away and after diverting towards the fire they discovered a Japanese fishing vessel, the Yuujin Maru 51, engulfed in flames. There was no sign of survivors and there was no name visible on what was left of the boat.
The crew of the Herodote began a search for survivors, put out a call to other merchant ships in the area and contacted the US Coast Guard Command Center Honolulu and Japan's Coast Guard.
The crew of the Herodote eventually located three fishermen in the water and continued the search for seven hours, until they were relieved by Japan's Coast Guard.
Out of the fishing vessel's crew of eight, the three people that the US-flagged vessel located were the only survivors.
The second award – an AOTOS Mariner's Plaque – was presented to the officers and crew of Military Sealift Command vessel USNS Yuma for helping to avert a humanitarian disaster in the Eastern Mediterranean in September 2022.
The vessel diverted to assist a sinking migrant vessel that had collided with a Maltese tanker. The Yuma and an Italian naval vessel were able to rescue all 90 migrants and the Yuma's medical officer and other crew members rendered assistance to the injured.
MM&P and the MEBA are Nautilus Federation affiliates.
---
Tags