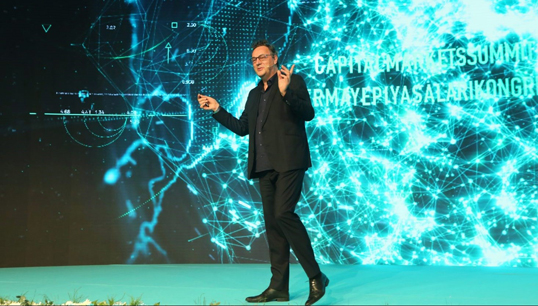 Shipping is to face even more significant disruption over the next ten years due to technological changes, delegates at London International Shipping Week (LISW) heard at an all-day session covering digital transformation and the impact of decarbonisation.
The Digitalisation Day, hosted by Inmarsat, included a keynote address by leading futurist Gerd Leonhard, who outlined the tech and social pressures coming to bear on the industry, plus a number of panel discussions.
Greater connectivity
Data was a key focus, with panellists noting a growth in connectivity since the start of the Covid-19 pandemic. Inmarsat said that data use among its customers had doubled, and was still higher than pre-pandemic levels.
This shift was partly attributed to the need for seafarers to stay connected during the crew change crisis and to provide them with better services, but it was also strongly linked to a desire among companies for better data to improve operations and the requirement to perform some services in new ways because of travel restrictions (e.g. remote inspections).
Digital services, including remote monitoring and operation of systems and even entire vessels, will require more bandwidth, which is likely to increase this drive towards better connectivity.
Delegates on the various panels also discussed the difference between digitalisation – taking physical processes and putting them online – and digital transformation, which involves rebuilding processes from the ground up to suit a digital world. The latter – increasingly driven by startup businesses – is likely to completely change the work done by both maritime executives and seafarers. Mr Leonhard emphasised during his talk that any work which is described by the 'three Ds' – dangerous, dull or dumb – will be automated thanks to increasingly sophisticated AI, allowing humans to take up different roles.
However, there were warnings that the pace of change must not be so fast as to leave people behind, and that training/reskilling will need to be an essential part of this transformation.
Exponential change
During his talk, Mr Leonhard pointed out that technological shifts are exponential, and that the amount of change over the next 10 years is therefore likely to be as much as the previous hundred. More digitalisation has taken place during the pandemic than over the previous five years.
He emphasised three basic points where change is taking place. The first is new technology (especially digital services), the adoption of which has been driven by the Covid crisis; the second is the advent of green technology and ways of working after years of discussion; and the third is the fact that government now has a major role everything due to the 2008 crash and pandemic response.
He also noted that other areas of society and technology will have a knock-on effect on the industry. For example, patterns of trade and consumption are likely to shift, and the arrival of 3D printing may change the kinds of cargoes transported from finished goods to raw materials.
Meanwhile, climate change and the push towards net zero are likely to cause enormous change for the industry.
Climate and emissions
Mr Leonhard cited the IMO figure that if no action is taken, the emissions from shipping will actually end up as to 17% of the global total.
He stated that, although many in the sector are concerned about funding for the transition to zero carbon, the money is already there but simply needs to be redirected. In the wake of massive government intervention in economies – following 2008 – and societies during Covid-19, he expects government to make a major push in terms of taxation and regulation to combat the climate crisis and ease inequality.
Panellists also emphasised the connection between the topics of digitalisation and green technology, increased data-gathering being seen as a way of improving operational performance of vessels and therefore reducing emissions.
---
Tags