Environment
Time for urgent action on alternative fuels, warns LISW decarbonisation seminar
14 September 2021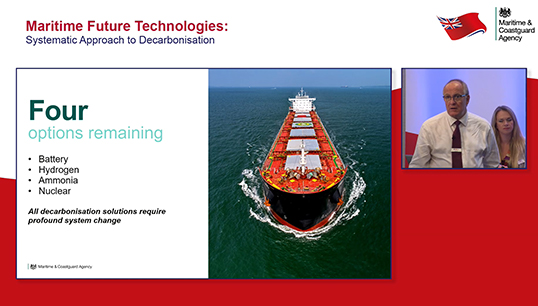 The shipping industry needs to start pilot projects for alternative fuels right away if it is to stand any chance of meeting its decarbonisation targets.
That was the main message coming from the panellists at the London International Shipping Week event Maritime Future Technologies – a systematic approach to the decarbonisation of shipping.
Organised by the UK Maritime & Coastguard Agency, the hybrid event began with a presentation from MCA chief executive Brian Johnson, in which he pointed out that shipping is entering the biggest period of change since the transition from sail to steam: a green industrial revolution.
With its long maritime traditions and respected regulatory regime, The UK is in a strong position to be a leader in this green revolution, he continued, and there could be an opportunity to reverse the gradual decline in the country's maritime financial, legal and insurance services.
Shipping is slow to change, Mr Johnson noted, but the sector could potentially have an advantage over aviation in the adoption of alternative fuels, because ships can tolerate a much wider range of fuel densities. Shipping should probably also acknowledge that aviation is likely to buy up most of the world's stocks of sustainable fuels suited to flight (i.e. biofuels from crops), and therefore should look at other options like hydrogen, ammonia, nuclear, and batteries charged onshore from renewable energy.
However, these alternatives all come with serious risks to seafarers and port communities from explosions and toxic fumes if something goes wrong, so we must try them out with small pilot projects. We will then use what we learn to get a regulatory regime in place and reach a consensus on what works in order to scale up internationally.
This message was strongly reinforced by the event's panel of experts from the MCA, Wärtsila, the Port of London, Lloyd's Register and the UCL Energy Institute. Panel members pointed out that another reason for moving on with pilot projects is to find out which alternative fuels – alone or in combination – are likely to help make a company profitable, as punitively expensive options will be avoided by the market.
Sangram Nanda of Wärtsila had a different perspective, saying: 'The real issue on whether a technology is going to fly or not is competence.' Mr Johnson agreed, pointing out that shipping is behind the times in assuming that one type of seafarer training will work for the safe operation of most vessels.
In aviation, flight officers have to be specifically trained for each individual aircraft they fly, and shipping is already reaching a point where differences between vessels would make such training advisable for marine officers. If a range of alternative fuels are adopted in future, vessels could become even more diverse, so training needs must be considered among the learning points from forthcoming pilot projects.
Another notable discussion at the event was around the challenges of adopting nuclear power for merchant vessels. Nuclear has advantages over other fuels, needing less space onboard and a much smaller infrastructure for production and supply onshore. Panellists argued that modern nuclear technology has been proven onboard military vessels, and its potential for explosiveness and toxicity could be no worse than hydrogen and ammonia.
Yet in the light of past nuclear disasters around the world, there is great public unease about nuclear, and an audience member at the event pointed out that the waste products from nuclear-powered engines would have to be stored securely for some 50,000 years.
There is clearly still much to research and debate, but the session concluded that there must also be urgent practical action – with the anticipated pilot projects used to test the waters of public opinion on certain issues as well as collecting data on feasibility and cost.
---
Tags