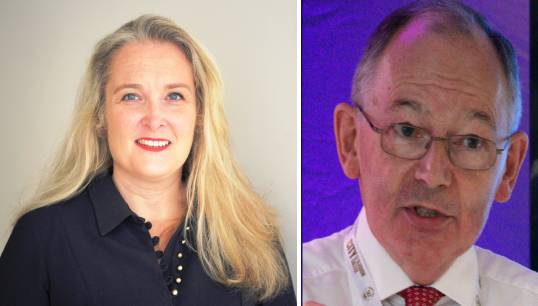 British maritime charity and Merchant Navy business leaders were recognised for exceptional service in the King's first New Year Honours list for 2023.
Former CEO of The Seafarers' Charity Catherine Spencer, was awarded the second-highest ranking in the Order of the British Empire honours (OBE) for services to seafarers.
Chair of The Seafarers' Charity Paul Butterworth said: 'On behalf of the General Council of trustees, I am absolutely delighted to congratulate Catherine on her OBE appointment. This is thoroughly deserved and is testament to her leadership of the charity through the most demanding of circumstances at a time when the need for international seafarer welfare support was most needed. Very many congratulations.'
Ms Spencer was appointed as CEO at the Charity in June 2019 and was in post for less than a year before Covid-19 caused the UK to enter lockdown. In July 2022 she moved to a new role as chief executive with health care research organisation Cochrane after having seen through an intense period of activity for The Seafarers' Charity, which distributed over £10 million in grant funding to support seafarers' welfare during a three-year period of unprecedented crisis.
Ms Spencer said: 'I am honoured to accept this award. However, the real heroes of this period are undoubtedly the seafarers who kept supply lines open. It is easy to forget that in December 2020 over 400,000 seafarers were stranded on ships waiting to be repatriated, and about as many were stranded at home eagerly waiting to join ships to earn a living. It was a privilege to work with the exceptional team at The Seafarers' Charity to support them.'
British maritime leaders were also recognised for their exceptional service by the Trade Secretary, Kemi Badenoch, who congratulated British exporters, innovators and business leaders awardees.
MBEs were awarded to Iain Mackinnon, former secretary of the Maritime Skills Alliance (MSA), for his services to education and skills in the maritime sector; and to Thomas Richard Chant, chief executive officer of the Society of Maritime Industries, for his services to the maritime industry.
The MSA is a UK-wide body which aims to set and promotes skills standards for the UK's maritime sector. Mr Mackinnon retired from his role as secretary to the MSA at the end of March 2022. In 2020, he was also appointed a commissioner with the Maritime Skills Commission which was established to ensure that the maritime sector has a pipeline of talented people to serve all parts of the sector in support of the UK government's Maritime 2050 strategy.
The maritime awardees were among more than 1,100 people across the United Kingdom recognised for their outstanding achievements to the community, society or their particular area of work.
Volunteers and staff with the Royal National Lifeboat Association and other coastguard volunteers were also recognised with MBEs and British Empire Medals (BEM) for their service to maritime safety.
---
Tags