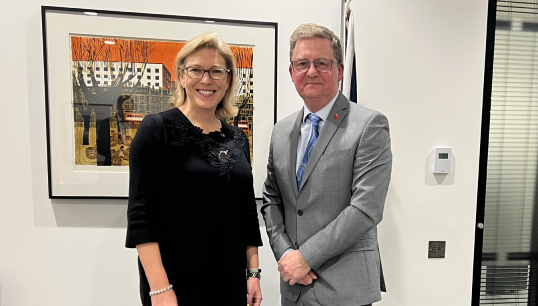 Nautilus general secretary Mark Dickinson has discussed skills, maritime jobs, and government action following the P&O Ferries crisis in his first meeting with new maritime minister Baroness Vere.
Baroness Vere was appointed to the role on 2 November, succeeding Anne-Marie Trevelyan who briefly held the role during the tenure of former Prime Minister Liz Truss.
Mr Dickinson took the opportunity to welcome Baroness Vere to the position of maritime minister, and to discuss several issues on behalf of Nautilus members.
He highlighted the Union's proposed amendments to the Seafarers Wages Bill, and also brought up concerns regarding the renewal of the Offshore Wind Workers Concession, and the need for a just transition for maritime workers.
Also under discussion was government action following the P&O Ferries crisis – including the proposed minimum wage corridors and the 9-point plan for seafarers.
Mr Dickinson commented: 'I was very impressed by the minister's detailed knowledge of these issues and by her clear commitment to our skills agenda. She is already well up to speed on the industry's needs and strongly supportive of Maritime 2050.
'I stressed our own continued support for Maritime 2050, especially the focus on people and skills, and highlighted the need for the government to continue to support cadet training beyond the current 50% contribution, to align with our competitors.
'I look forward to working closely with the minister and her officials to deliver our shared goals for the industry, and to ensure the government's 9-point plan on seafarer welfare is achieved.'
---
Tags