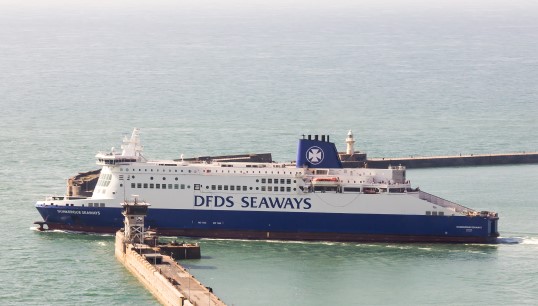 Further disruption to ferry journeys is expected with the news that Danish ferry operator DFDS has decided to end its space sharing arrangement with P&O Ferries on its Dover-Calais route.
The decision follows the sacking of 800 British workers by P&O Ferries. Following the halt in operations by the company on the short sea route from 17 March 2022, P&O Ferries has been unable to honour its own side of the agreement.
The mutual space charter agreement, which was signed in May 2021, allowed the two companies to make freight space available to one another so as to improve customer service and the flow of freight on the vital UK-EU route. Lorry drivers were able to board the next available sailing from Dover or Calais, regardless of whether the vessel was operated by P&O Ferries or DFDS.
At the time the agreement was reached, the then-CEO of P&O Ferries said that 'the best way to ensure that we can continue to run vital freight services on Dover-Calais is to build on our relationship with DFDS and enter this space charter agreement. It will ensure the continued resilience of the principal UK-EU trade route on which thousands of businesses and millions of consumers rely.'
---
Tags