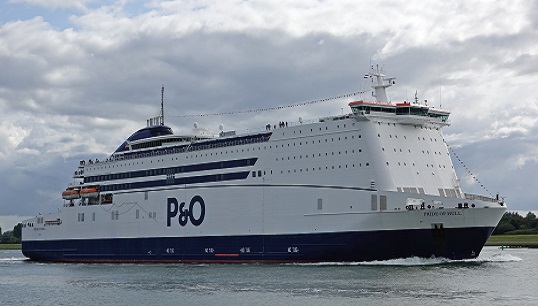 An inspection report by the European Maritime Safety Agency (EMSA) for the P&O Ferries vessel Pride of Hull is calling into question the safety of the vessel to operate.
Three of the four deficiencies identified in the report are related to the crewing of the Pride of Hull, after the UK workforce onboard were sacked without notice. They have been replaced by agency workers hired via International Ferry Management – a company set up in Malta just a few weeks ago by a serial company director named in the Paradise Papers.
In addition to these deficiencies, it is clear that the flag state (Bahamas) issued the Pride of Hull's safe manning document in 2020, and that it has not reviewed the document yet despite fundamental change in operations onboard.
Following an inspection by the Maritime and Coastguard Agency (MCA), Pride of Hull slipped out of port on Thursday morning, heading to Rotterdam. However, Nautilus has seen the report from the MCA port state control inspection. This makes it clear that ropax was not covered, meaning the vessel cannot take passengers.
The four deficiencies highlighted in the report are:
Labour conditions (min. requirements for seafarers), recruitment and placement service: not as required
Certificate and documentation, crew SEAS: not as required
Certificate and documentation, doc. evidence for personnel on passenger ships: not as required
Pollution prevention MARPOL Annex 1: 'other'
Nautilus International executive officer Martyn Gray said: 'P&O Ferries has stated that it hopes to have its vessels back in operation with completely new crews, just a few days after laying off its entire workforce. We maintain that it is impossible for the company to ensure safety onboard under these conditions – if this were a new vessel, it would take four to six weeks to bring the crew up to scratch, even with the benefit of a yard crew to give them expert assistance.
'We call on the MCA to ensure that these vessels are not permitted to sail – especially with passengers onboard – unless it is sure that proper safety standards have been met. These standards were put in place following tragedies such as the Herald of Free Enterprise disaster. Commercial pressures must never again be allowed to put passengers and seafarers at risk.'
---
Tags