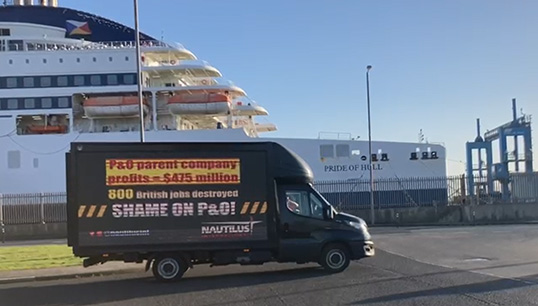 Local news sources have reported that the P&O Ferries vessel Pride of Hull has left Hull under cover of darkness en route to Europoort in the Netherlands.
The ship is sailing with the agency crew who replaced the 82 long-serving seafarers summarily sacked on 17 March, but has not been given permission by the UK Maritime & Coastguard Agency to return to normal operations.
Nautilus has seen the report from the MCA port state control inspection hurriedly carried out after the crew change, and this makes it clear that ropax was not covered, meaning the vessel cannot take passengers.
Cargo would have been permissible, but the company seems to have got wind of planned protests aiming to prevent goods being loaded in Hull, so the ship is understood to have sailed empty – crossing the busy North Sea shipping lanes before full crew familiarisation and safety drills could take place.
Speaking this morning at a session of the House of Commons Transport Committee, an MCA spokesperson stated that safety inspections would be carried out by the Dutch authorities. The Committee asked the Agency to provide it with the full signed-off paperwork from its port state control inspection of the Pride of Hull.
Nautilus will continue to monitor the vessel's movements and consider what action to take when it reaches Rotterdam.
---
Tags