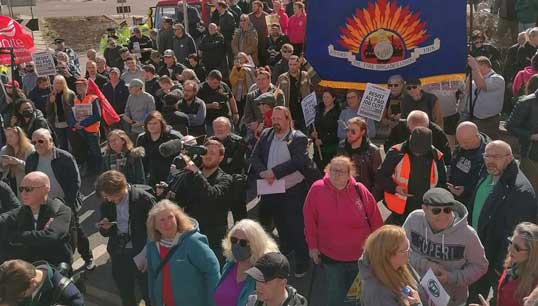 The Scottish Trades Union Congress (STUC) has called on the UK government to prove it is on the side of unfairly dismissed workers, not the 'the multi-million-pound profiteers of DP World and P&O [Ferries]', after the appearance of CEO Peter Hebblethwaite at the Scottish Parliament's Net Zero, Energy and Transport Committee today.
STUC general secretary Roz Foyer expressed the anger of ordinary people, unions and the sacked workers:
'Hebblethwaite's appearance at the Scottish Parliament today was as pathetic as it was shambolic and entirely representative of how P&O have behaved these past weeks,' she said.
'He calls this a "controversial" move – we call it breaking the law. He calls it "material change" – we call it a mass culling. Hiding behind his language of operating models and balance sheets are workers. All 800 of whom should be immediately reinstated on the exact terms and conditions from when they were disgracefully sacked.
'We cannot permit P&O – or any other company – casting workers and employment law aside with such impunity. This cannot be allowed to stand. Not now and not ever again.
'P&O are now the test case for whether the UK government, who are responsible for the state of employment law, are backing the multi-million-pound profiteers of DP World and P&O or backing the people impacted by their callous actions.'
---
Tags